Page : 1 2
Step 7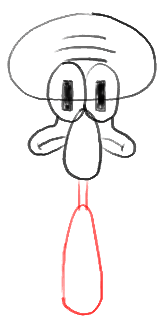 Now lets draw Squidward's neck. All it is are 2 straight lines beneath his nose. After you draw the neck, make a slightly bigger oval below the neck than you did for his nose.
Step 8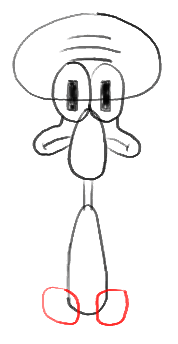 Now draw the shape of Squidward's hands by drawing 2 rounded squares (huh?) at the bottom of the oval.
Step 9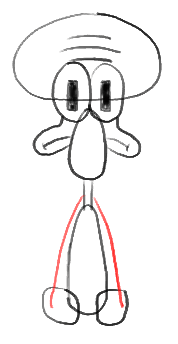 Draw Squidward's arms by drawing a line from the center of his neck to middle of his hands.
Step 10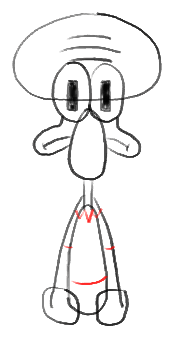 Now draw Squidward's shirt by drawing a 'W' like shape at the top of Squidward's oval body shape…and 2 lines in the middle of Squidward's arms for shirt sleeves and a slightly upward curved line 1/3 to the bottom of Squidward's oval body shape for the bottom of his shirt.
Step 11

This one might look tough but if you try to look at it in a different way and visualize each line as a separate shape, it really isn't so tough. You can think of the right leg as 2 curvy 'L's or 2 very loose 'C's. Just go with your imagination.
Step 12

Now draw the ends of Squidward's legs or tentacles. Draw 2 upside down 'U's ad then close the opening with a line.
Step 13

Draw circles inside the ends of the tentacles. Draw 4 dashed lines.
Step 14

Now draw the back tentacles. Draw the left back tentacle by drawing a lowercase 'e' and for the right back tentacle, draw a backwards lowercase 'e'.
Step 15

Now you just have to erase lines that you don't need and outline the 'correct' lines with a pen or marker. If you are having problems figuring out which lines to erase, then reference my drawing (above) for help.
Step 16

Use your watercolors, markers, colored pencils, crayons, or chalk to color Squidward and you will have an amazing Squidward Tentacles to show off to your friends.
Technorati Tags: draw Squidward, drawing Squidward, how to draw Squidward, draw Squidward Tentacles, drawing Squidward Tentacles, how to draw Squidward Tentacles, Squidward Tentacles,   Squidward from spongebob, how to draw, drawing cartoons, spongebob squarepants, draw spongebob squarepants, learn how to draw, drawing lessons, drawing tutorials
Page : 1 2
Pages: 1 2