Page : 1 2
Step 7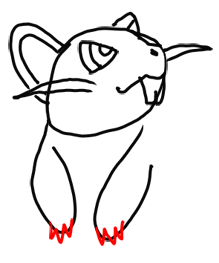 Now take a look at Rattata's nails…are they nails or a bunch of 'W's?
Step 8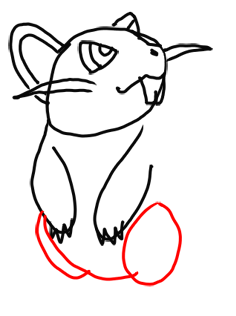 Now for Rattata's abdomen (stomach) and thighs (upper legs). I would start this out by drawing an oval (for the right thigh) next to the right arm. Then draw 2 'C' like shapes for the abdomen and the left thigh. Make sure to reference the picture above to see where to start and end the 'C's.
Step 9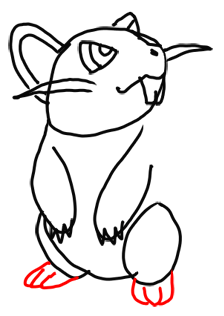 Rattata has very cut feet. For Rattata's right foot, just draw a 'V' for the center toe and then just draw the rest of the foot around it. For the left foot, can you see that it looks like a very long 'W' like shape? You can draw this easily enough.
Step 10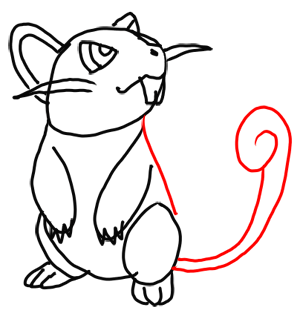 Now just draw Rattata's back from his head down to his thigh (as shown above). Rattata has a cute tail, doesn't he. Doesn't it sort of look like there is a big bubble letter 'U' coming up from Rattata's thigh? At the top of this 'U' is a capitol 'G'. Do you see it? I think you can draw this and if you can't, maybe an older sister or brother or parent can help you.
Step 11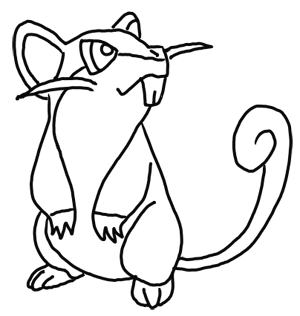 Now you just have to erase lines that you don't need and outline the 'correct' lines with a pen or marker. If you are having problems figuring out which lines to erase, then reference my drawing (above) for help.
Step 12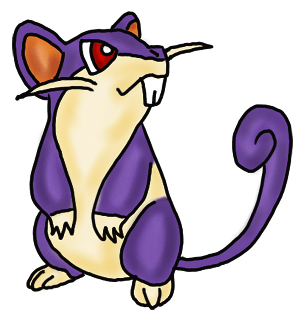 Use your watercolors, markers, colored pencils, crayons, or chalk to color Rattata and you will have an amazing Rattata to show off to your friends.
More Pokemon Drawing Tutorials
Technorati Tags: draw Rattata, drawing Rattata, how to draw Rattata, draw Rattata from Pokemon, drawing Pikachu from Rattata, Rattata, Rattata from Pokemon, rats, draw rats, drawing a rat, how to draw Pokemon, draw Pokemon characters, Pokemon, Pokemon characters, how to draw, drawing cartoons, spongebob squarepants, draw spongebob squarepants, learn how to draw, drawing lessons, drawing tutorials
Page : 1 2
Pages: 1 2