Page : 1 2
Step 7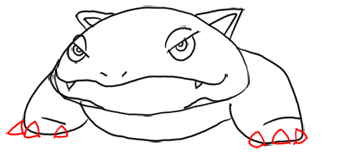 Now for step 7 you will be drawing Venusaur's nailes. Each nail looks like a triangle with a curved (not flat) bottom. Take a look at the space on the drawing above to try to get your drawing right.
Step 8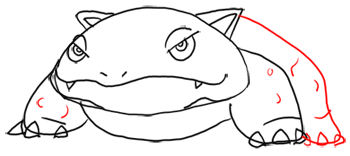 Now its time to draw the back right leg of Venusaur. Star the leg slightly below the top of the right ear and then follow the curve of the right arm in front of it. Also try to mimic the nails that you see on the front arm onto the right back leg, just slightly smaller.  Look at the other lines that are in red and try to copy them onto your drawing as well. We are almost finished now. Your Venusaur should look just about right now.
Step 9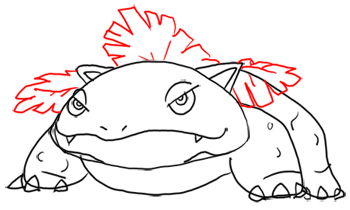 You might find this part very tricky. The leaves that are on the top of Venusaur are a little complicated to draw until you look at the smaller shapes within the bigger shape. The leaves are made up of smaller rectangles and if you are able to see this, you might find it much easier to draw. If you are unable to draw these leaves, ask a friend or a parent to help you.
Step 10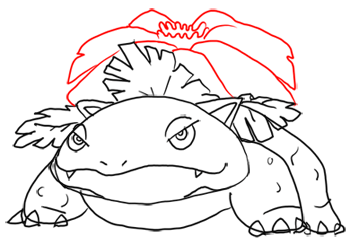 Now behind the leaves, you will see a red flower. This also is a bit more complicated then the rest of the drawing of Venusaur. Picture the Flower as multiple 'M's drawn in various angles and this might help you draw the flower more easily. Also the top of the flower, you can just draw squigly little 'W's.
Step 11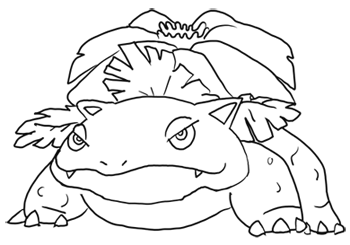 Now you just have to erase lines that you don't need and outline the 'correct' lines with a pen or marker. If you are having problems figuring out which lines to erase, then reference my drawing (above) for help.
Step 12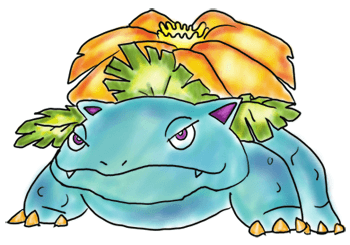 Use your watercolors, markers, colored pencils, crayons, or chalk to color Venusaur and you will have an amazing Venusaur to show off to your friends.
More Pokemon Drawing Tutorials
Technorati Tags: draw Venusaur, drawing Venusaur, how to draw Venusaur, draw Venusaur from Pokemon, drawing Venusaur from Pokemon, Venusaur, Venusaur from Pokemon, how to draw Pokemon, draw Pokemon characters, Pokemon, Pokemon characters, how to draw, drawing cartoons, spongebob squarepants, draw spongebob squarepants, learn how to draw, drawing lessons, drawing tutorials
Page : 1 2

Pages: 1 2