Page : 1 2
Step 7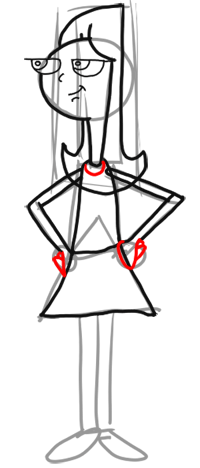 Draw the neck line of Candace's dress.Now I noticed that it is hard to see Candace's hands in this picture so I enlarged her hands below.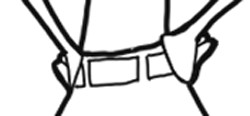 Basically, for Candace's right hand, draw a 'C' like shape and an 'M' like shape for her fingers. On the left hand, it is basically just another 'M' shape for Candace's fingers, you can do it.
Step 8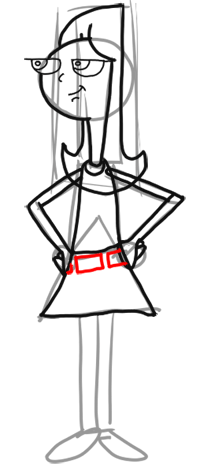 Now draw Candace's belt. Draw a rectangle in the middle and partial rectangles on both the left and right.
Step 9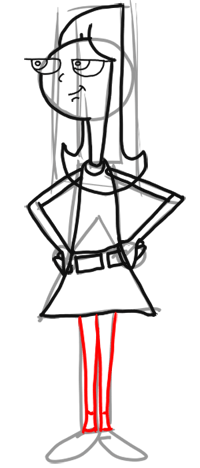 Now draw the more specific shape of Candace's legs and draw her ankle socks as well.
Step 10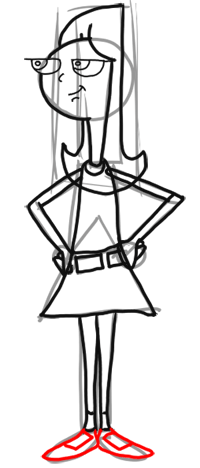 Now draw Candace's shoes which are basically oval shapes with a rectangle in each shoe.
Step 11 : Finishing Up Candace Flynn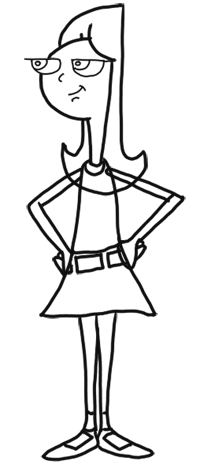 This is what Candace should look like so far. Now you just have to erase lines that you don't need and outline the 'correct' lines with a pen or marker. If you are having problems figuring out which lines to erase, then reference my drawing (below) for help. Now you will have an amazing cartoon Candace drawing from Disney's Phineas and Ferb to show off to your friends.
Finished Candace : Phineas' and Ferb's Sister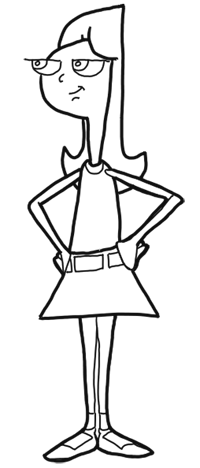 You Might Also Like These Phineas and Ferb Drawing Tutorials
How to Draw Perry the Platypus(Agent P)
How to Draw Perry the Platypus (Pet)
How to Draw Phineas Playing a Guitar
Technorati Tags: draw Candace, draw Candace from Phineas and Ferb, draw Candace, drawing Candace, how to draw Candace, draw Candace from Phineas and Ferb, drawing Candace from Phineas and Ferb, Candace, Candace from Phineas and Ferb, draw Phineas and Ferb characters, Phineas and Ferb, Phineas and Ferb characters, how to draw, drawing cartoons,   learn how to draw, drawing lessons, drawing tutorials, cartooning, cartooning for kids, drawing for kids
Page : 1 2
Pages: 1 2