Page : 1 2
Do you want to learn how to draw Perry the Platypus (The seemingly dumb pet Platypus) from Phineas and Ferb? My kids have a favorite cartoon on Disney and that is Phineas and Ferb. I have to admit that I love it too. My husband and I just crack up every time we see this show and my 2 year old baby daughter knows the words to the song already. I have put together a step-by-step tutorial that will help you figure out how to draw Perry the Platypus by using simple shapes to build up Perry the Platypus' form. This is an easy cartooning tutorial that younger kids, older kids, teens, and adults will enjoy. Even some younger children might be able to draw Perry the Platypus if you stand by to help with the instructions. Enjoy! Also find out
How to Draw Phineas Playing a Guitar
How to Draw Perry the Platypus (Agent P)
How to Draw Perry the Platypus (Pet)

How to Draw Candace from Phineas and Ferb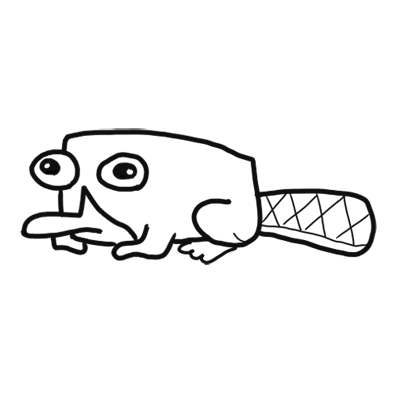 How to Draw Perry the Platypus (The Pet) from Phineas and Ferb for Kids : Step by Step Drawing Lesson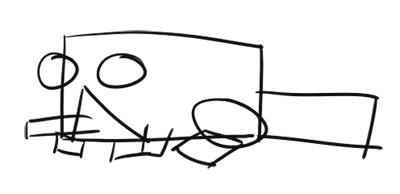 If you look at the sketched image above, you are probably wondering why I am teaching how to draw Perry the Platypus when I'm such an awful artist. 🙂 I purposely sketched out the basic shapes that I see in Perry the Platypus' body shape. Did you ever notice that Perry the Platypus (the pet) has a rectangle shaped body? Have you noticed that his tail is also very rectangular-shaped? Sketching out the basic shapes (lightly) before drawing the more specific shape of Perry the Platypus, is an easy way to get a better final drawing.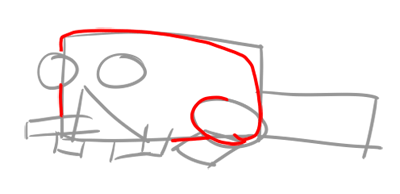 I am going to keep the basic-shaped-gray sketch out so you can see the basic shape of Perry the Platypus still. Now we can hone down the more 'accurate' shape of Perry the Platypus' body. Lets darken a few of the lines that we already drew (as shown above) as well as make Perry's back more curved. Don't worry about mistakes because you can erase these later. Later, you will be using a pen or marker to outline the 'right' lines.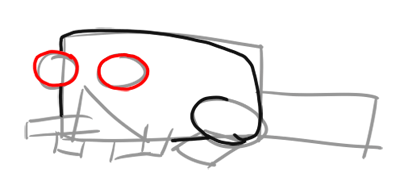 Now refine the shape of Perry's eyes.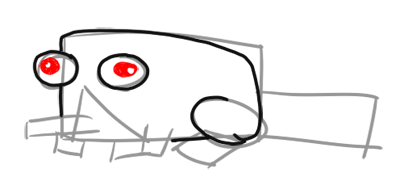 Lets give Perry the Platypus some eyeballs by putting in 2 circles with a smaller circle drawn inside that circle (for a highlight).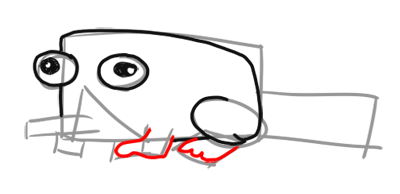 Now lets refine the shape of Perry the Platypus' feet. The back foot just looks like a backwards 3 with one extra curve.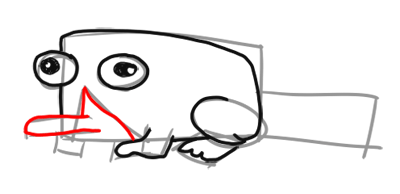 Now lets make Perry the Platypus' beak / mouth. Basically make a '7' like shape and a 'U' type shape, both turned on their sides. If you see things as letters & numbers, it helps you draw complicated shapes easier because these complicated shapes no longer look complicated. Make up your own tricks to make drawing easier.
Page : 1 2
Pages: 1 2