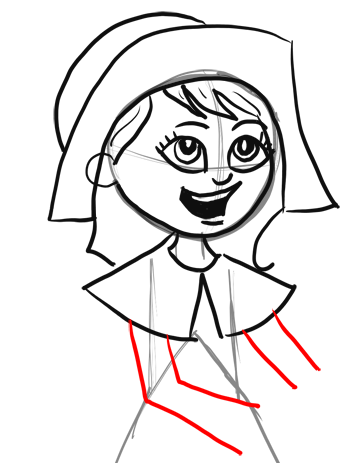 Now draw 2 'L' type shapes for the left arm and draw an '11' for the right arm.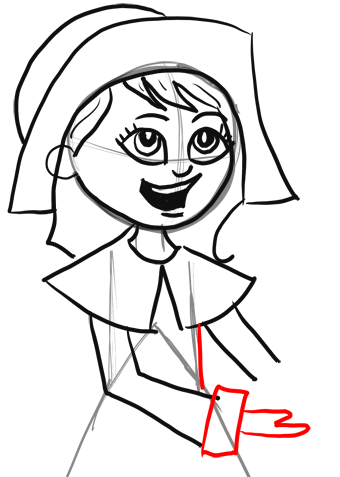 Now draw the waist line and a rectangle for the girl's sleeve cuff. Also draw the hand (looks like a rectangle with a sideways 'V' at the end of it).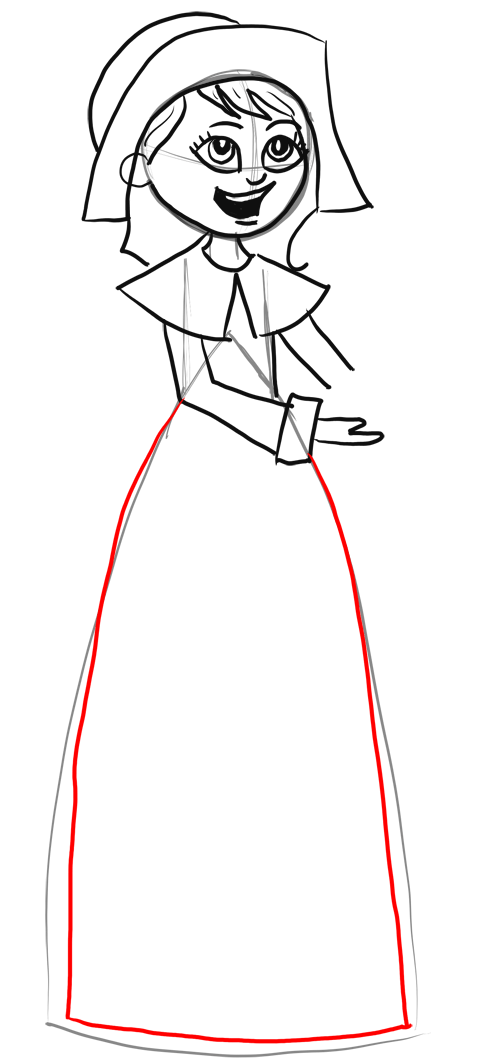 Now refine the shape of the pilgrim girl's dress.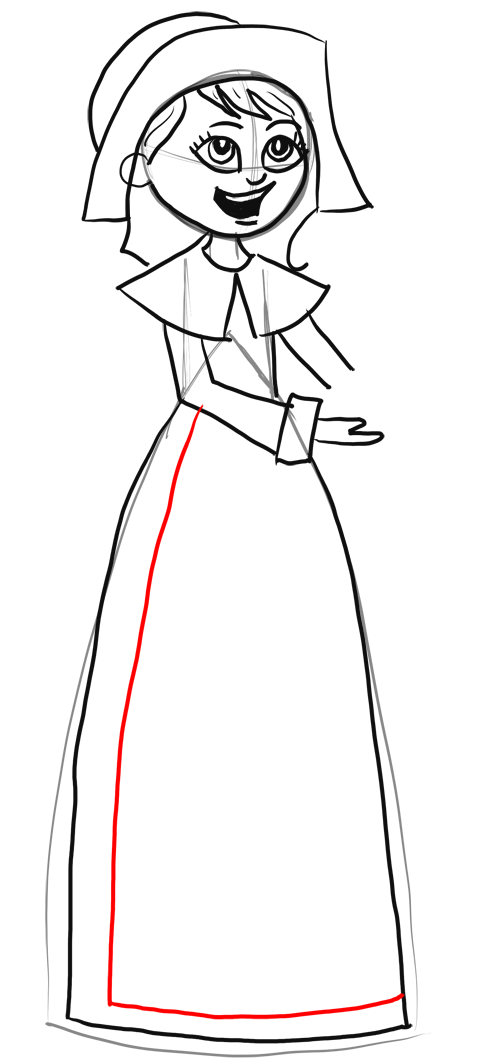 Now make a big 'L' shape for the girl's apron.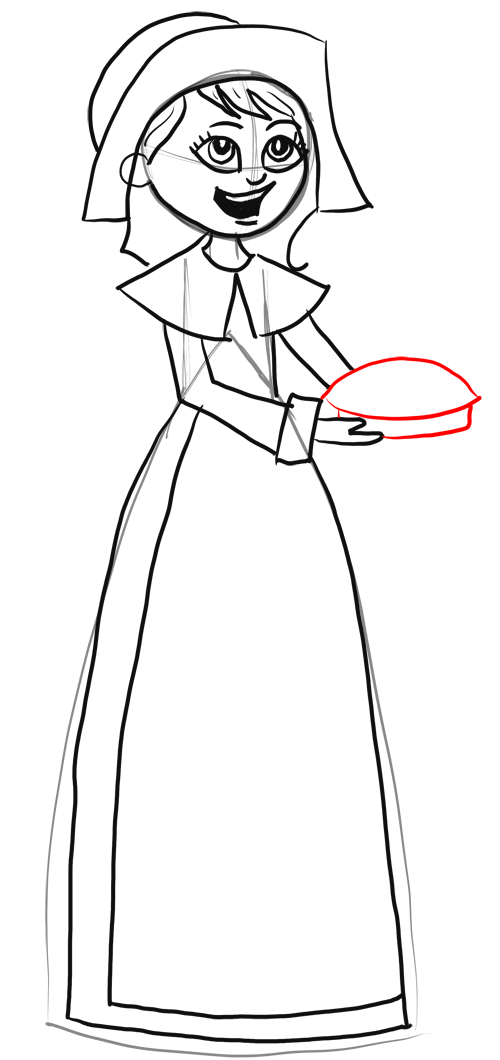 Now make the basic shape of the pie.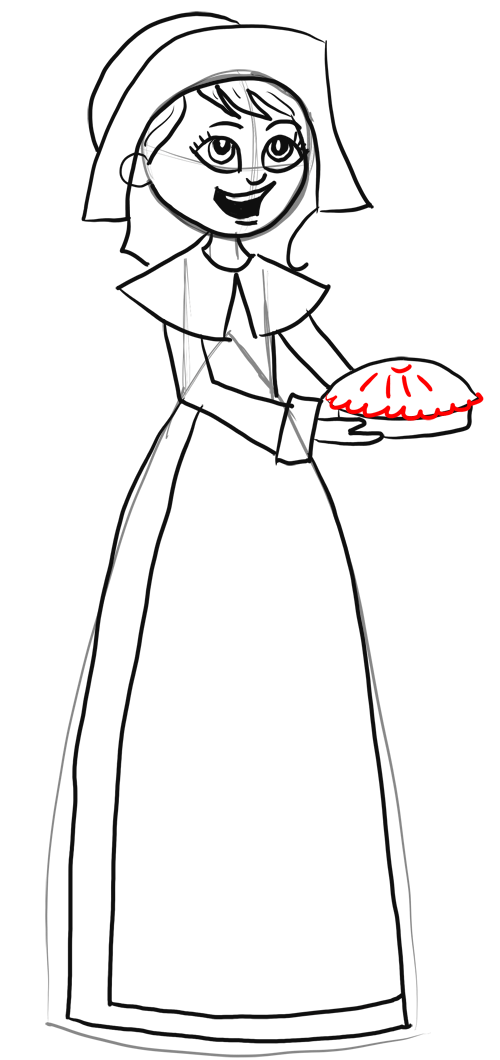 And now make a bunch of squiggly 'W' type shapes for the outer pie shape as well as lines inside the pie shell.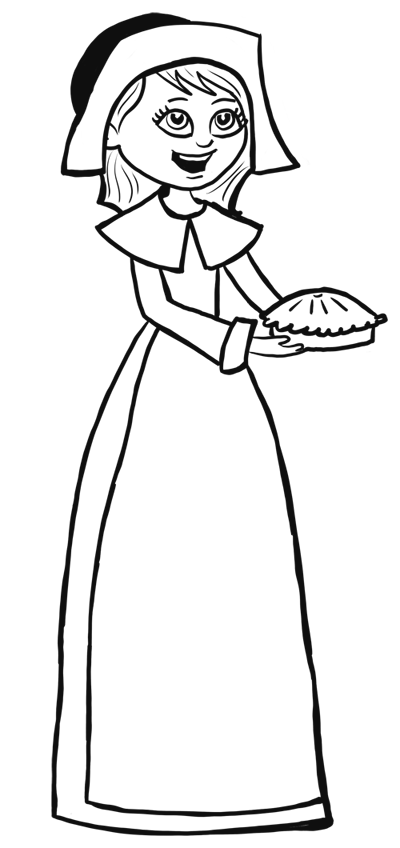 Now you just have to erase lines that you don't need and outline the 'correct' lines with a black pen or marker. Making thick, interesting lines instead of the thin pencil lines makes quite a differnce in the end result, doesn't it? If you are having problems figuring out which lines to erase, then reference my drawing (above) for help. Now you will have an amazing cartoon pilgrim girl drawing to show off to your friends and family at the Thanksgiving dinner table.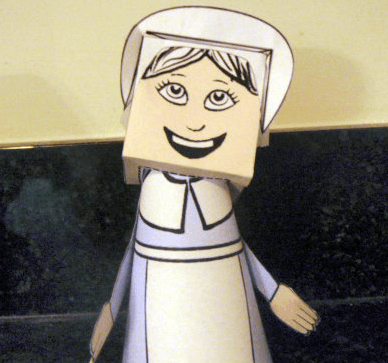 You might also like How to Draw Cartoon Turkeys for Thanksgiving
Technorati Tags: thanksgiving drawing tutorials, thanksgiving drawing lessons, thanksgiving cartoons, draw pilgrims, drawing pilgrims, cartoon pilgrims, drawing cartoon pilgrims, draw pilgrim girls, pilgrim girls, draw a pilgrim, draw girls, drawing a pilgrim girl, how to draw pilgrims, pilgrims cartoon images, cartooning a pilgrim, how to draw a cartoon pilgrim, draw a cartoon pilgrim, pilgrims drawing lessons, pilgrims drawing tutorial, thanksgiving pilgrims, draw thanksgiving pilgrim, drawing for kids, how to draw for kids, draw a dog for kids, cartooning, cartoons, drawing, drawing lessons, drawing tutorials