Step 12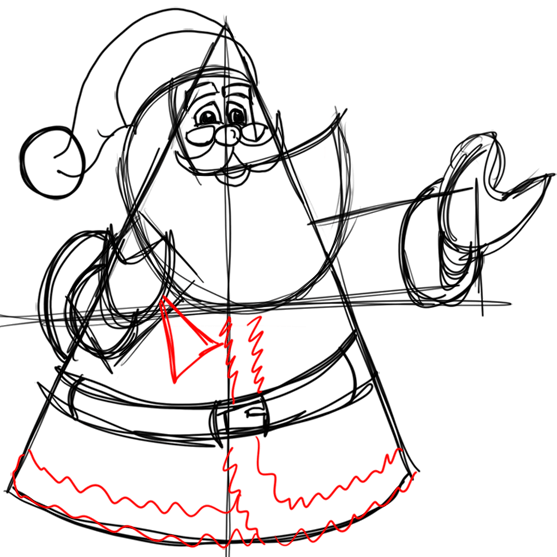 Now draw a triangle-like shape at the bottom of Santa's left hand. This is the bottom of his gift bag. Also make squigly lines along the sides of his coat for fuzz.
Step 13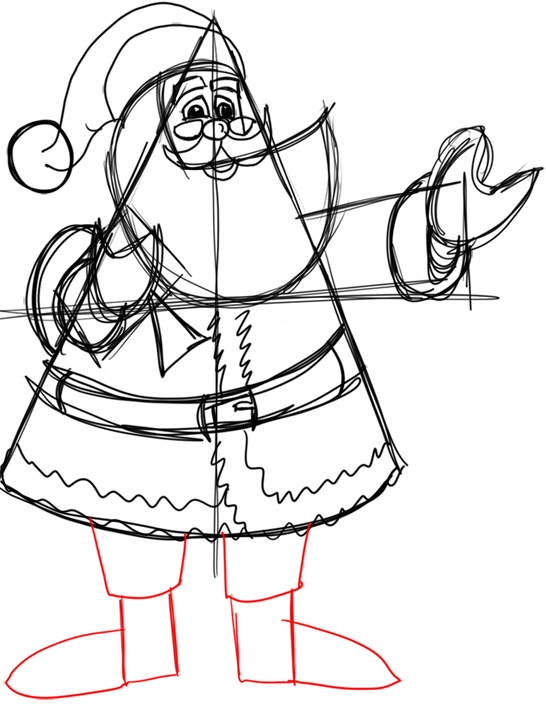 Now draw Santa's legs coming out from the bottom of his coat. Draw squares for the bottoms of Santa Clause's pants. Also draw Santa's shoes, made up of rectangles and sideways letter 'V's.
Step 14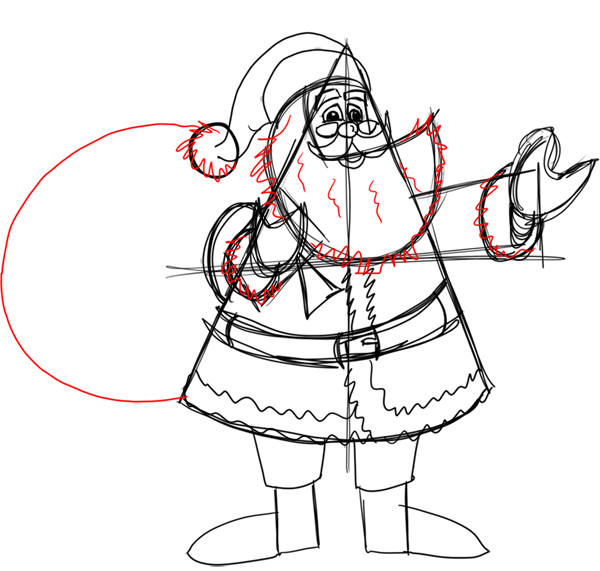 Now draw a huge letter 'C' for the left side of Santa Clause's gift bag. Now draw squiggly lines for Santa Clause's sleeve cuffs as well as for Santa's beard and hat's pom pom.
Step 15 – Finished Santa Clause Drawing Tutorial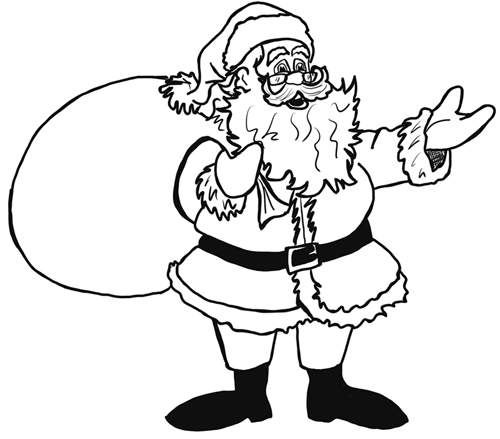 Now you just have to erase lines that you don't need and outline the 'correct' lines with a black pen or marker. Making thick, interesting lines instead of the thin pencil lines makes quite a differnce in the end result, doesn't it? If you are having problems figuring out which lines to erase, then reference my drawing (above) for help. Now you will have an amazing cartoon Santa Clause drawing to show off to your friends and family on and around Christmas time.
Here are Even More Christmas Drawing Tutorials … and There are more Santa Clauses That you Can Try to Draw Too.
Technorati Tags: draw santa, draw santa clause, drawing santa clause, how to draw santa, how to draw santa clause, draw santa step by step, santa drawing lesson, santa clause drawing lesson, christmas drawing, draw for christmas, christmas drawing tutorials, drawing for kids, drawing tutorials drawing lessons, how to draw, drawing step by step, draw step by step, cartooning, cartoons, drawing, draw