Step 14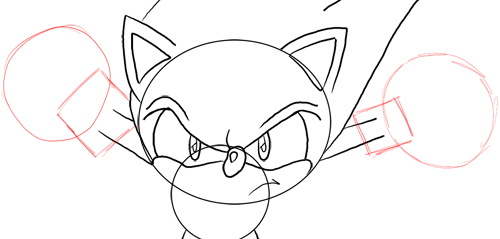 Now draw the beginning of Sonic's hands. Lightly draw a square and a circle for each hand. Notice that the hand circles are about the same size as the body circle.
Step 15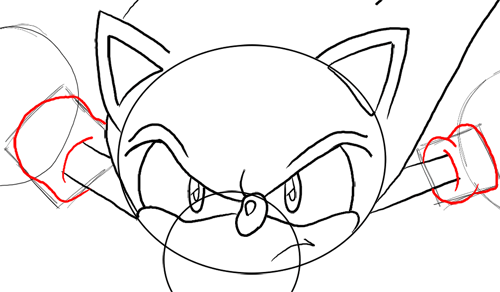 Now draw the details of each wrist.
Step 16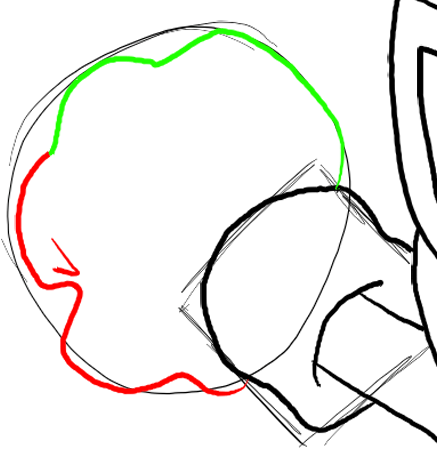 Lets draw the left hand. I drew it in 2 different colors to show you that the green part sort of looks like an 'M' and the red part sort of looks like a backwards number '3' with a checkmark inside it.
Step 17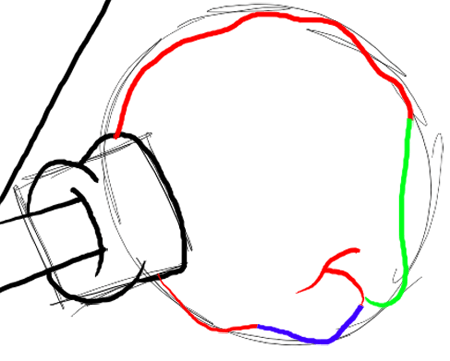 I drew the right hand in 3 different colors. Basically draw a circle (the red) and then draw a capital letter 'L' (purple), a capital letter 'T' (red), and a letter 'J' (green) to finish off the hand.
Step 18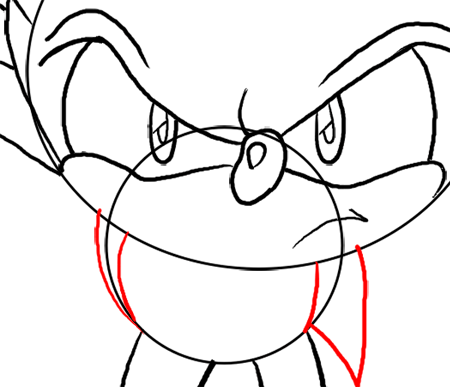 Now draw the bottom of Sonic's hair (on the right) and draw a 'V' on the right to finish off Sonic's stomach. Now you are basically done.
Step 19 – Finished Sonic the Hedgehog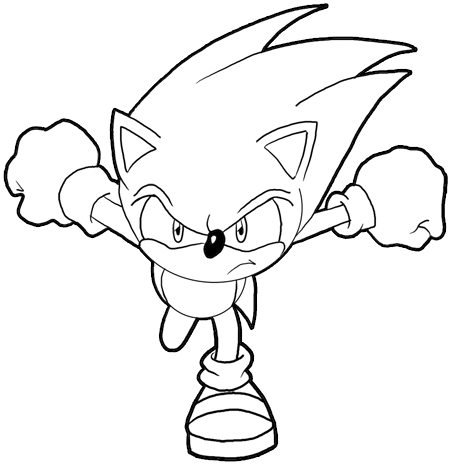 Now you just have to erase lines that you don't need and outline the 'correct' lines with a pen or marker. If you are having problems figuring out which lines to erase, then reference my drawing (above) for help. With the thick outside dark marker line, doesn't Sonic the Hedgehog look Awesome?!
Sonic the Hedgehog, draw Sonic, how to draw Sonic, draw Sonic the Hedgehog, how to draw Sonic the Hedgehog, drawing Sonic, Sonic, drawing for kids, how to draw for kids, draw for kids, drawing tutorials, drawing lessons, how to draw step by step, how to draw Sonic step by step, drawing for kids, drawing for children, how to draw cartoons, draw cartoons, cartooning, cartooning lessons, cartooning tutorials
" target="_blank">
You Might Also Enjoy Our Other Sonic Drawing Tutorials
Technorati Tags: Sonic the Hedgehog, draw Sonic, how to draw Sonic, draw Sonic the Hedgehog, how to draw Sonic the Hedgehog, drawing Sonic, Sonic, drawing for kids, how to draw for kids, draw for kids, drawing tutorials, drawing lessons, how to draw step by step, how to draw Sonic step by step, drawing for kids, drawing for children, how to draw cartoons, draw cartoons, cartooning, cartooning lessons, cartooning tutorials