One point must be made; namely, that one line by itself is always black, while two or more make a gray tone. This comes, of course, from the fact of the white paper's showing in between them. After a tint is started, every time we draw one line, we draw two—the black one in ink, and the white one formed by the space between it and the last one, so, while a single line will show black on the white paper, two or more of the same thickness will show gray, because they have white lines mingled with them, and, as explained previously, the different proportions of the white and black lines are what make the tint or tone required. It is just as necessary to watch the white line as it is to watch the black one.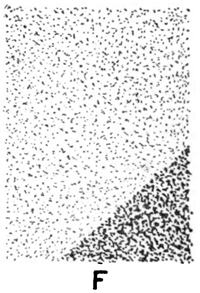 Irregular Stippling
Now on to stippling. A stipple is a dot; an irregular stipple is a tint of irregular dots, as in F, where the pen just dots them on the paper in an irregular order, and also, probably, in uneven sizes.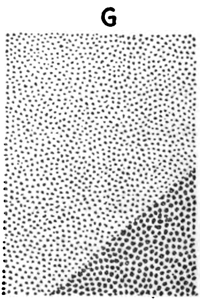 Regular Stippling
A regular or mathematical stipple is a series of regular dots of given form, usually drawn in a series of curves that blend into each other, as seen in G.  These stippled tints can be made darker, the same as a line tint, by making the dots heavier and the white spaces between them smaller, as shown in the lower right-hand corners of both squares.
Manipulating the Your Art Materials
The angle of the board, in pen drawing, is something that every artist must settle for himself. As in pencil drawing, it is much easier to see and judge the work if held upon an angle, tilting upward at the back, but this angle cannot be too much, or the ink will not flow from the pen to the paper. If the tilt of the board is too great, the pen is too nearly horizontal for the ink to flow freely, and it is very inconvenient and difficult to work in such a manner.
Hold the pen in the same manner as the pencil. Be especially careful not to grasp it too tightly, press too hard with the thumb, or hold a stiff wrist. It is even more important in pen work than in pencil work that these directions should be followed, because of the need of making wider, thinner, variable, or swelled lines (to be described later). Hold the hand a little to one side of the line to be made, not directly in front. For a thin line, turn the pen slightly sideways; for a heavier one turn it more to the front, as it is difficult to spread the nib and make a heavy line if the pen is held sideways. For short lines hold the pen well down toward the nib; for longer lines, farther up the handle, and do not try to make too long a line at one stroke. An inch and a half should be the extreme limit till one attains some practice. The easiest kind of line to draw is one beginning at the upper right-hand corner of a square and continuing to the lower left-hand corner; the most difficult is one beginning on the upper left hand and running to the lower right hand. To draw the latter successfully, the paper must be turned. Do not try to draw backwards or the pen may spatter, or the points may Cross.
Line practice.

The first things to practice with a pen are lines and curves so as to attain a sharp and even black line. When this is done successfully, try to draw two parallel lines together as in A.

Then try to draw six or seven parallel lines, so as to form a tint, as in B.
This is the first step in making line tones, and it requires considerable practice to follow one pen line with another, so as to make an even, regular tint. The lines should all be of the same thickness, and also equidistant, so that the white lines between will be the same thickness. When doing work of this kind, or, in fact, any work in pen and ink, always be careful to draw toward you, as drawing pens are not made for working in any other manner. Turn your drawing in any way you wish so as to make it convenient to draw your lines in this way.
How to Make Two Pen Lines Look Like One Pen Line
As stated above, it is neither advisable nor good practice to attempt to make too long a pen line at one stroke. If the line is to be at all long, then the pen must be raised, the hand moved forward, and another start made with a new line. This line must meet the old one, however, without showing any mark or break, and the whole line must continue in a perfect, unbroken line, without any thickening at the place where they join or any sign of breakage or spot where the pen is put upon the paper again. This is solely a matter of practice and of long practice. No one can expect to make a long line the first time, or the first ten times, without showing some indication of where the different stops have been made. It is useless to expect to do it.
Don't Use a Ruler to Make Your Cartoons and Illustrations
It may be asked if there is any reason why this trouble should be taken when a straight line can be readily drawn with a straight edge, or a series of lines, so drawn to form a tint. This can be done is, of course, true, but it is often very bad practice. Even a boundary line is often drawn in free-hand, because of the different appearance of a ruled line and its mechanical character. A tint formed of ruled lines is hard, inexpressive, and of purely machine-made appearance. The first line of A is drawn with a straight edge ruler, the following ones are drawn without a ruler, and the difference in character is easily seen. The line is dean, sharp, true, and straight, yes, but the human touch is missing and loses the special character to it. Six tints drawn by hand by six different artists may show six slight variations in handling; six tints drawn with rulers will all look alike. There is no way to express personality with a ruling pen and straight edge.