Drawing the Side View of a Hand Pointing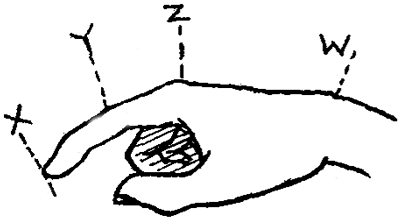 The hand above shows a side view of a hand pointing. Notice that the distance from the end of the fingers (X) to the knuckles (Z) is the same as the distance from the knuckles (Z) to the wrist (W). Always remember, too, that the main joint (Y) in each finger is always placed halfway between the .end of that finger (X) and the knuckle (Z) … (Refer to your own hand). Another very important point is that the length of the average hand, from the wrist (W) to the finger-tips (X), is the same as the distance from the chin to the top of the forehead (or the hairline) of the figure you are drawing. Watch these proportions carefully in your drawings.
While you may have noticed in newspaper cartoons that the hands are apparently drawn without the least regard for proportion or shape, you will find, by close observation of these hands that fundamentally, all the proportions we have just mentioned REALLY HAVE BEEN FOLLOWED. The cartoonist have only simplified or exaggerated them to get a comic effect.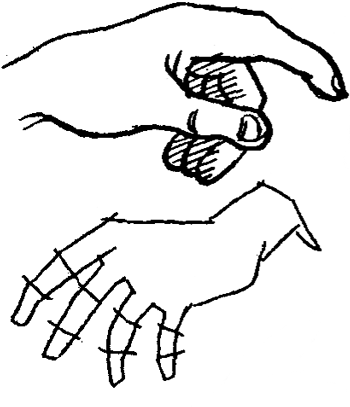 Remember that in drawing hands in various positions or actions, that the fingers have KNUCKLES and that they bend ONLY at the knuckles. So many students overlook this point and, accordingly, the hands they draw look like little circles with sausages fastened to them. Some of the greatest cartoonists have achieved fame chiefly because they have worked out the details, such as the hands, in their cartoons very carefully, taking pains to fit the character of the hand to the type of person they are drawing.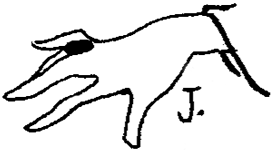 A woman's hand (J) is shaped slenderly and gracefully.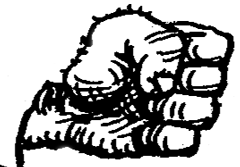 A hobo's hand is coarse, heavy, and hairy. A baby's hand is plump, dimpled, and small; A fat person's hand is, naturally, also fat, etc.
Examples of Different Types of Hands in Different Positions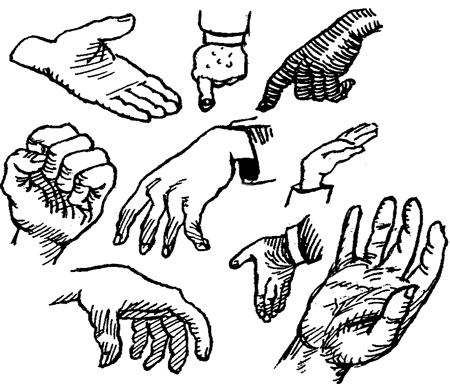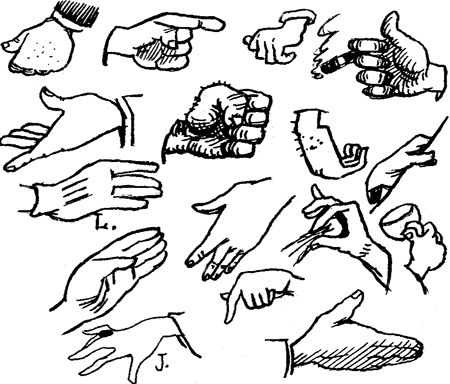 Above you will see many different types of hands in different positions. You should study these sketches carefully, then practice drawing many hands referring to your own, and using the methods of construction and proportion that we discussed today.
You Might Like Our Other Hand Tutorials
Technorati Tags: hands, drawing hands, draw hands, how to draw hands, hand structure, draw hands step by step, drawing fingers, draw fingers, fingers, how to draw, drawing lessons, drawing tutorials, drawing for kids, cartooning, how to draw cartoons