Do you want to learn how to draw frogs? This step by step drawing tutorial will guide you through creating a bullfrog drawing with simple instructions. This lesson can be completed by most ages of children, teens, and adults…and it is fun for all. Good luck.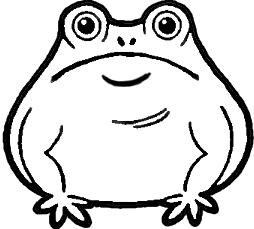 How to Draw Frogs with Step by Step Drawing Tutorial for Kids
Step 1

First draw 2 eyes…that are 2 eyes apart (so pretend that you have to draw 4 circles, and then erase 2 of them). Make each eye by drawing a circle, then drawing a smaller circle within it. Fill the inside circle in, except for a tiny circle highlight…as pictured above.
Step 2

Now draw a sideways letter 'c' on top of each eye (as seen above). Connect both of these letter 'c's with a slightly curved line.
Step 3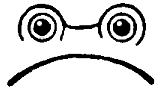 Now draw a big frowny mouth below the eyes.
Step 4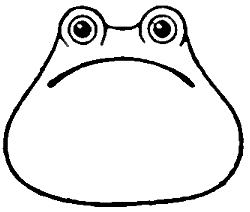 Now draw the frog's body by drawing a letter 'u' like shape that curves inwards when it reaches the mouth.
Step 5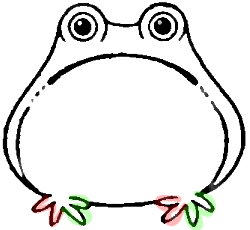 Make the frowny mouth into a circle-like shape (as seen above). Also draw the frog's feet by drawing a number '3' and a backwards number '3' like shape.
Step 6 – Finished Drawing of a Bullfrog Lesson
Now draw a letter 'u' under the frowny mouth. And draw a number '7' for each frog leg (as seen above). Also draw 2 dots for nostrils. Now just erase lines that you don't need anymore and darken the important lines.
Technorati Tags: draw frogs, drawing frogs, how to draw frogs, draw bullfrogs, drawing bullfrogs, drawing for kids, how to draw, drawing lessons, drawing tutorials, step by step drawing