A lighthouse is a tower designed to emit light from a system of lamps and lenses (or, in older times, from a fire) and used as an aid to navigation and to pilots at sea. Do you want to learn how to draw one of these legendary lighthouses? I have put together a step-by-step tutorial that will help you figure out how to draw lighthouses by using simple shapes to build up its form. This is an easy tutorial that kids, teens, and adults will enjoy. Even some younger children might be able to draw a lighthouse if you stand by to help with the instructions. Enjoy!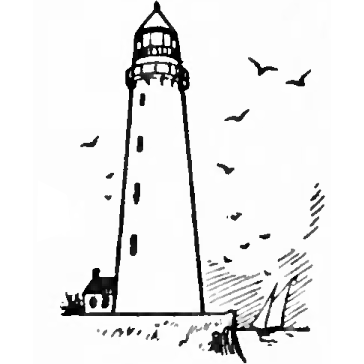 How to Draw Lighthouses with Simple Drawing Step by Step Instructions
Step 1
First, draw 2 tall lines slightly coming inwards at the top (as shown above).
Step 2
Now at the top of the 2 lines that you just drew, draw 2 converging lines (as if you were drawing a triangle). Also draw a horizontal line at the bottom of the drawing (for the ground level).
Step 3
Now draw a lowercase 'r' type shape at the left side of the drawing (this will be a tiny house connected to the taller lighthouse). Also draw an 'x' like shape to the right of the horizontal line that you drew in step #2 (this becomes where the ground connects to the sea / ocean / water).
Step 4
Now at the top of the structure…make a curved line to form a triangular cone type shape. Also draw more downward curved lines … 4 of them. The last line looks like it would be an 'o' like shape if it could complete itself (but the tower is in the way).
Step 5
Now it really is starting to look like a lighthouse structure. Draw the sailboat in the water (notice that the sails on this boat sort of look like a big capital 'M' shape). Draw windows in the little house (2 square shapes) and draw a horizontal line on the house to make the roof and draw a tiny rectangle for the house's chimney. Also draw little rectangles all the way up the tower for tiny windows. Also at the top of the tower draw 2 vertical lines below the triangle-cone-like shape for the large windows. Also notice other details that were drawn.
Step 6 – Finished Drawing of a Lighthouse Tutorial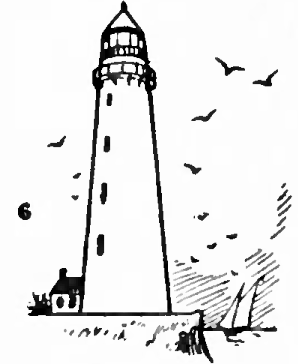 Now just add other details such as the birds (which I always thought looked like letter 'V's from far away.
Technorati Tags: draw lighthouses, drawing lighthouses, how to draw lighthouses, lighthouses, draw light houses, how to draw, drawing, easy drawing, drawing for kids, step by step drawing, drawing tutorials, drawing lessons