Do you want to learn how to draw this adorable cartoon billy goat? Billy goats are stubborn, fearless animals, who are fun to draw because it is fun to capture their arrogance. Here is an easy-to-follow step by step drawing lesson that kids, adults, and teens will be able to complete. You will be amazed by your drawing abilities, just follow the directions.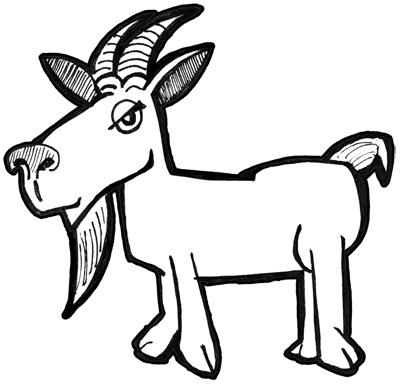 How to Draw Cartoon Billy Goats with Simple Drawing Lesson
Step 1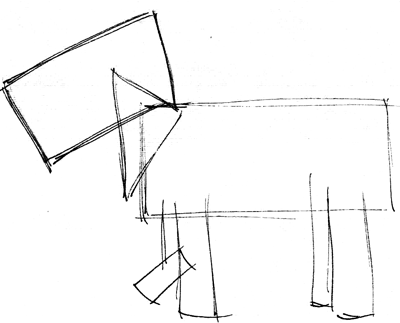 First draw the basic shoes that make up the form of the cartoon goat. Draw a rectangle for the body, a rectangle for the face, connected by a triangle. Then draw rectangles for legs.
Step 2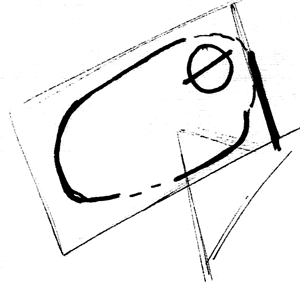 Now draw an oval shape for the face (inside the frame of the rectangle that you drew in step #1). Draw a circle with a line through it at the top right of the oval (for the goat's eye).
Step 3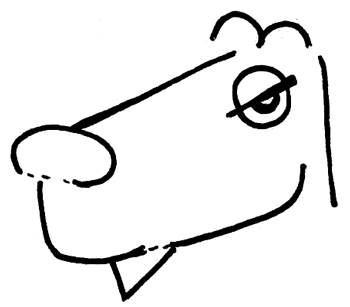 Now draw a sideways number '3' at the top-right of the face (for the brows). Draw a half circle below the eye lid (for the iris / pupil) and fill it in except for a smaller oval. Draw an oval at the top left of the form (for the nose). Draw a triangle for the bottom of the mouth.
Step 4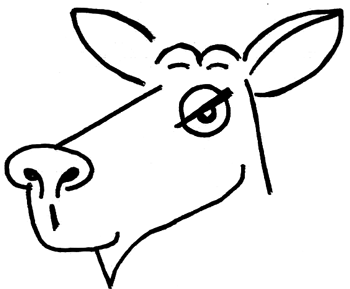 Draw a comma-like shape and a backwards comma-like shape for nostrils. Draw a line under the nose. Draw an upwards curve on the mouth, for a smile. Draw eye brows under the '3'-shaped brow at the top of the head. Also draw an ear on either side of the '3'. The left ear looks like sideways letter 'v'. The right ear looks like a lowercase 'e' (backwards).
Step 5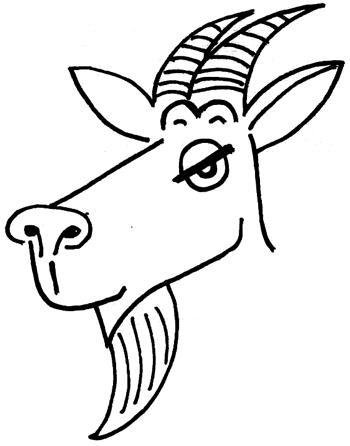 Draw the billy goat's beard by drawing a curved 'v' like shape at the bottom of the chin. Also draw horns at the top of the goat's head. The one on the right is larger because it is closer. The horns can by drawn as a capital 'M' like shape.
Step 6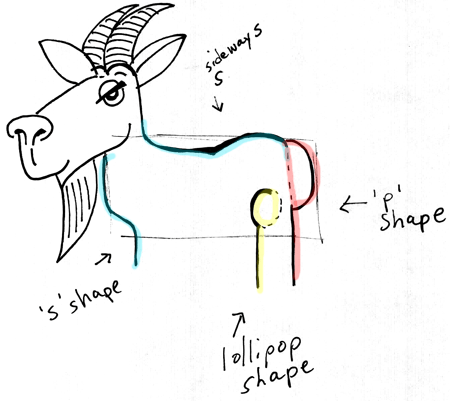 Draw the body now. I tried to make drawing the body easier by finding shapes to build up the form. See if you can do it.
Step 7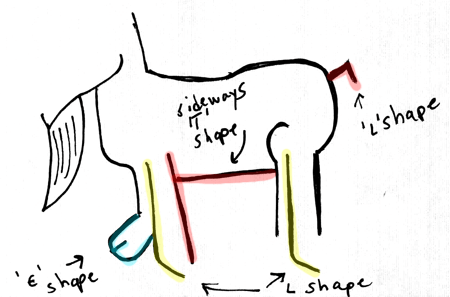 Now start drawing the legs and tail.
Step 8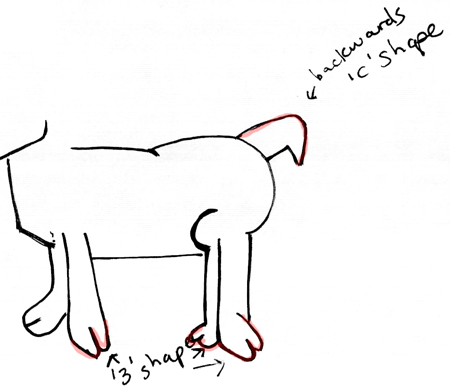 Now finish drawing the tail and the feet / hooves.
Step 9 – Finished Cartoon Billy Goat Illustration Tutorial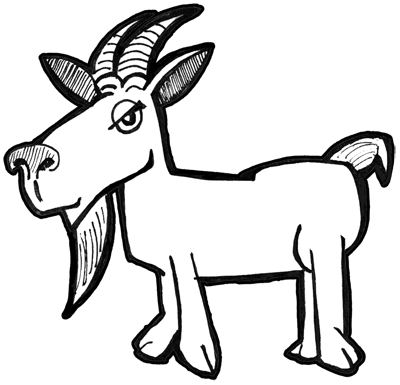 Now just erase lines that you don't need and outline the 'correct' lines with a black pen or marker. Making thick, interesting lines instead of the thin pencil lines makes quite a difference in the end result, doesn't it? If you are having problems figuring out which lines to erase, then reference my drawing (above) for help. Now you will have an amazing cartoon drawing of a cartoon whimsical Billy Goat to show off to your friends.
Technorati Tags: draw goats, drawing goats, how to draw goats, cartoon goats, cartooning goats, draw billy goat, how to draw cartoon goat, cartooning billy goats, cartooning, how to draw, drawing lessons, drawing tutorials, step by step drawing, drawing for kids