Page : 1 2
Gorillas and Apes are popular jungle animals to cartoon as grumpy animals. Sometimes they are drawn cute, sometimes they are drawn dumb & dopey, this cartoon is drawn as an agitated gorilla. Either way, I thought that it would be fun to draw cartoon gorillas today so I have put together a simple step by step tutorial for kids of all ages, teens, and adults. Build up the ape's form with simple shapes, letters, and numbers. Enjoy the cartooning lesson.
You Might Also Like Our Other Cartoon Ape / Gorilla Tutorial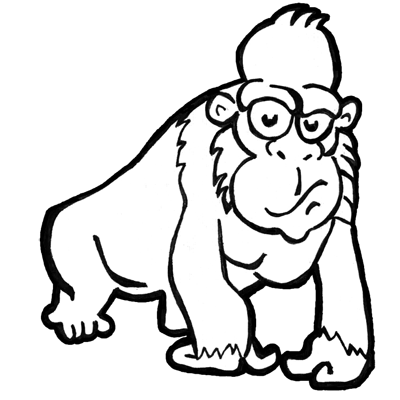 How to Draw Cartoon Gorillas / Apes with Easy Step by Step Instructions
Step 1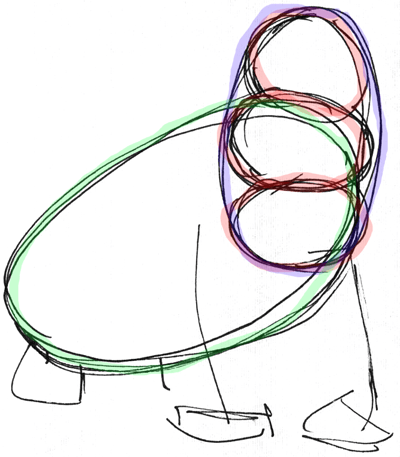 The above picture sure looks silly, as my son pointed out. I just wanted to show you that the ape / gorilla is made up of simpler shapes, if you look close enough. You can build up the body shape with a large oval and the face with a much smaller oval. And the oval that makes up the face is made up of 3 smaller ovals.
Step 2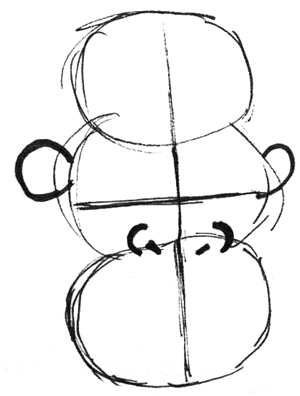 So to start off the face, draw the 3 smaller ovals that you saw in step #1. Then draw a line splitting the 3 ovals in half vertically (up and down direction), then split the middle oval in half horizontally (right and left direction). These are guidelines that can be used to help you place facial features. Now you can figure out where to place the ears. Draw the right ear (a backwards letter 'c' shape) on the horizontal half line. Draw the left ear (almost an 'o' shape) a bit above the half horizontal guideline. Draw the nose in between the middle and bottom oval.
Step 3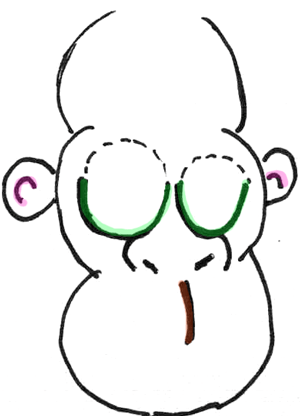 Now draw a 'c' shape in the left ear and draw an upside down 'u' in the right ear. Under the nose draw a slightly curved line. Draw both of the gorilla's eyes, close enough that they are almost touching. Draw the left eye bigger than the right eye.
Step 4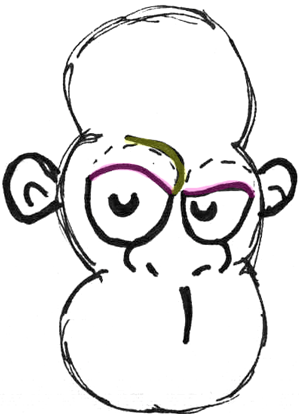 Now draw the eye lids. The eye lid on the right is almost like a flattened sideways 's' like shape. On top of the left eye, draw a line that follows the curve of the eye circle that you drew in the previous step (I highlighted it in yellow).
Step 5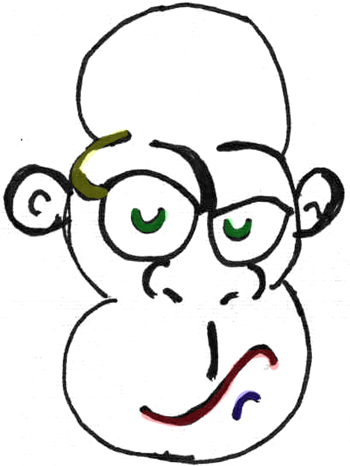 Now draw a sideways letter 's' for the gorilla's mouth. Draw a sideways letter 'c' under the mouth. Draw a letter 'c' shapes inside the eyes for pupils. Draw a letter 'c' shape on the top left of the left eye (highlighted in yellow).
Step 6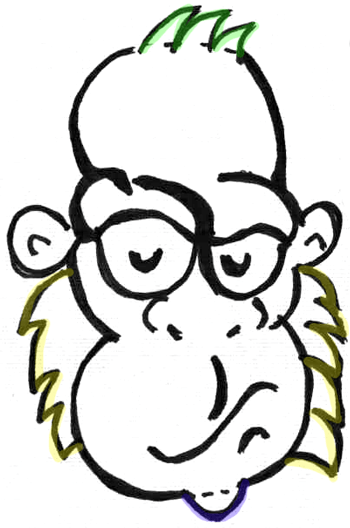 Draw the gorilla's chin by drawing a letter 'u' on the bottom of the gorilla's face. Draw some hair on the top of the gorilla's head by drawing a bunch of zig-zaggy letter 'M' shapes. Now under the ears and down the gorilla's cheeks, draw sideways letter 'M' shapes for hair.
Page : 1 2
Pages: 1 2