The Flinstones has been around for about a half of a century and it is a great show that most, if not all, kids love. Not only did my parents watch it, but I watched it, and now my kids watch it. Well, I have put together an easy step by step drawing tutorial that builds up Betty Rubble's form with simple shapes, numbers, and letters. Not only will young kids be able to do this, but also teens and adults will enjoy it as well. Find the easy Betty Rubble drawing lesson & instructions below. Good luck.
You Might Also Like Our Other Flinstones Drawing Tutorials (such as How to Draw Fred Flinstone, Wilma Flinstone, etc.)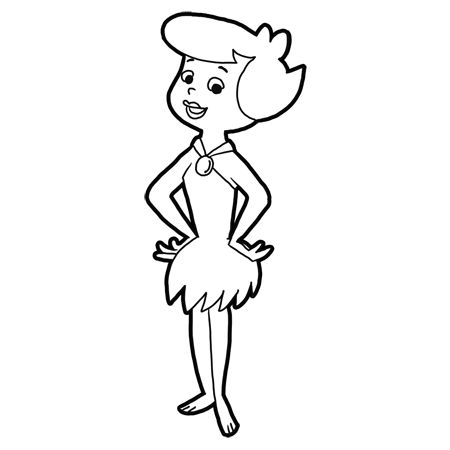 How to Draw Betty Rubble from The Flinstones with Easy Step by Step Drawing Lesson
Step 1

First, sketch out the basic shapes that make up Betty's form such as a circle for a head and body, with a rectangle between the two shapes.
In this picture, Betty's face is turned towards the right and tilted. Draw a tilted horizontal line (a line that goes left and right)  in the center of the face…and draw 2 slightly tilted vertical lines (a line that goes up and down) to separate the face into thirds. These guidelines will help you place Betty's facial features on her face.
Step 2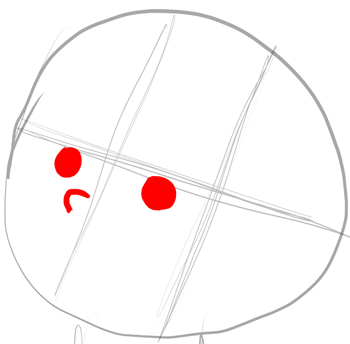 Now draw 2 circles for eyes (the one on the right is slightly bigger)…and fill them in. Notice that the circles are right below the horizontal center line and also notice where they are in comparison to the 2 vertical guidelines. Also draw a letter 'c' for Betty's nose.
Step 3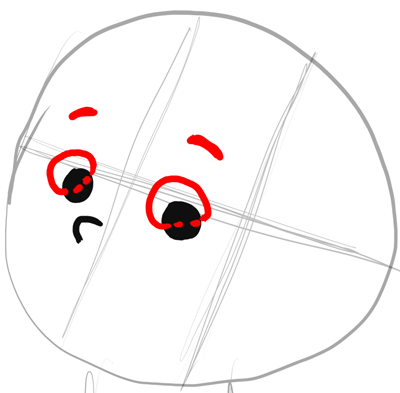 Now draw a bigger circle slightly above and to the left of each eye (the one on the right is slightly bigger). Also draw an eyebrow for each eye.
Step 4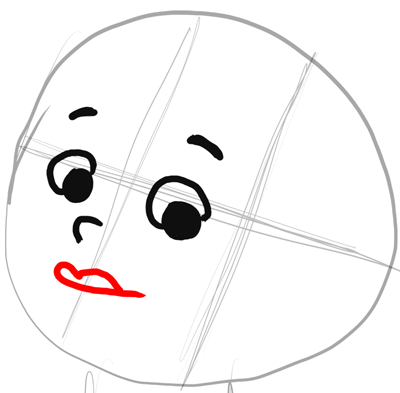 Now draw Betty's top lip. Notice that it looks like a sideways capital letter 'B'.
Step 5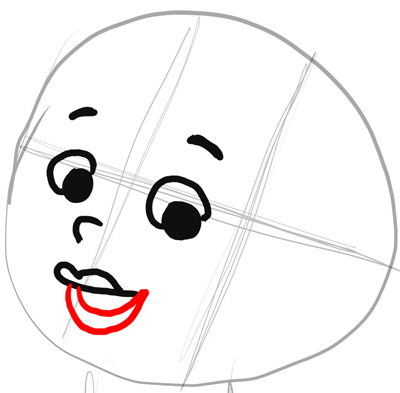 Now draw Betty's bottom lip. It looks like a bubble letter 'U'.
Step 6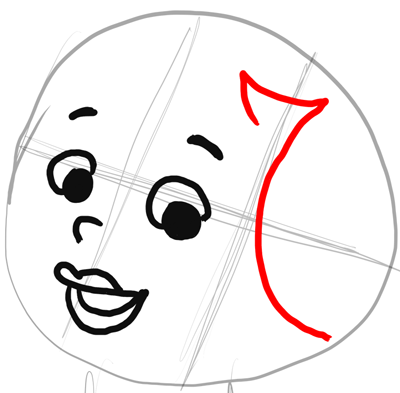 Now draw hair on the right side of Betty's face. Notice that the shape looks like a number '7' that turns curvy at the bottom of the shape.