Page : 1 2
Step 7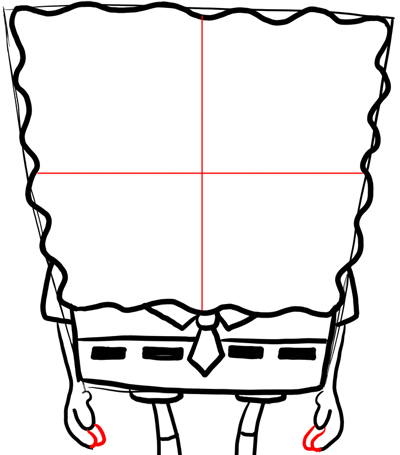 Now draw two letter 'J' like shapes for the left hand's fingers. Draw 2 backwards letter 'J's for the right hand.  Also find the center of Spongebob's face by drawing a line down the center in both directions.
Step 8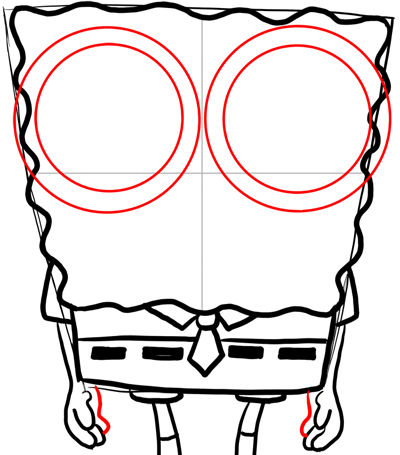 Now draw huge eyes by drawing 2 circles for each eye on Spongebob's face. Do you see how Spongebob's face is separated into 4 sections by the guidelines that you drew in the previous step? The eyes  take up more than one square for each eye.
Also draw the remaining fingers … on the left hand it looks like a number '5' like shape…the last finger ont he right looks like an upside down question mark shape.
Step 9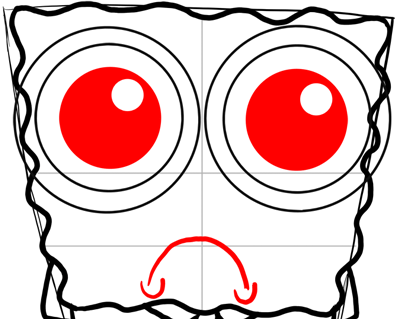 No draw another circle in each eye…and fill it in except for a small circle highlight on the top-right of each eye. To find out where to place the frowny mouth…find the half mark of the bottom half of Spongebob's face (see the picture above). Now draw his mouth at the half-half-way point, as pictured above. Draw an upside down letter 'u' like shape for the mouth…with a small letter 'u' like shape at the bottom of each side of the mouth.
Step 10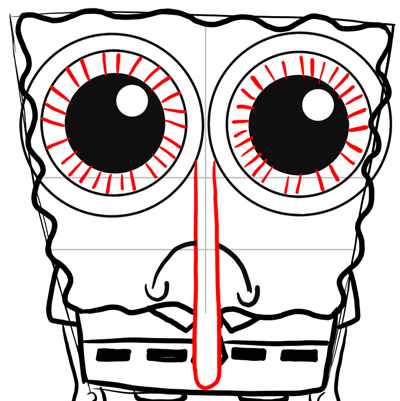 Now draw lines all around the eyes. Also draw a very long nose down the center of the face, all the way down to the bottom of the pants. Erase anything that the nose covers, like most of the tie.
Step 11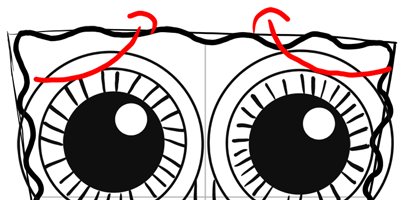 Now draw the eyelids by drawing  sideways letter 'J' like shapes.
Step 12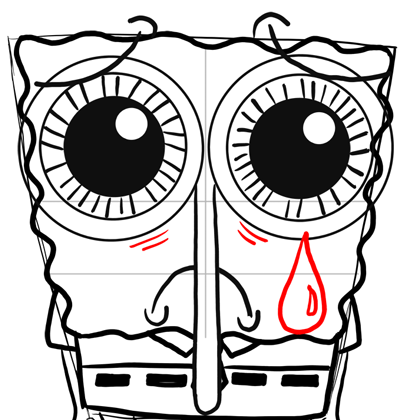 Draw 2 curved lines beneath each eye. Draw the tear as well with a highlight in it (a tear is basically a circle with an upside down letter 'v' like shape at the top of it).
Step 13 – Finished Drawing Depressed, Saddened, Crying of Spongebob Squarepants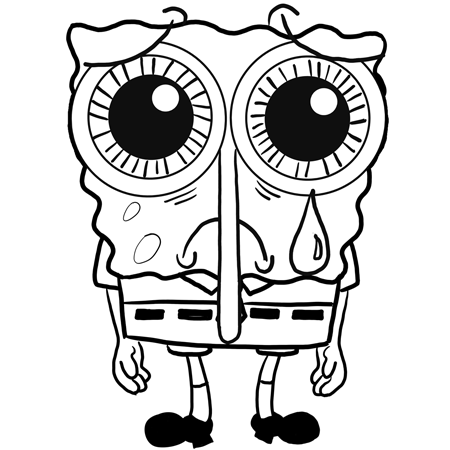 Now you just have to erase lines that you don't need and outline the 'correct' lines with a pen or marker. If you are having problems figuring out which lines to erase, then reference my drawing (above) for help. With the thick outside dark marker line, doesn't Spongebob Squarepants look Awesome?!
Technorati Tags: draw depressed spongebob, depressed spongebob, depressed spongebob squarepants, draw crying spongebob, crying spongebob, sad spongebob, draw sad spongebob, draw spongebob, draw spongebob squarepants, drawing spongebob, drawing spongebob squarepants, how to draw spongebob, how to draw, drawing cartoons, spongebob squarepants, spongebob, how to draw spongebob squarepants, drawing for kids, learn how to draw, drawing lessons, drawing tutorials
Page : 1 2

Pages: 1 2