Step 14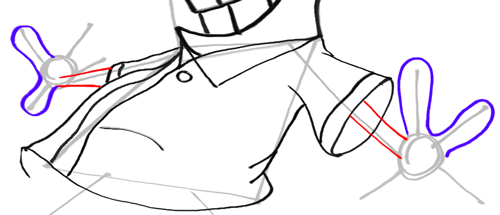 Draw both of the arms by drawing 2 lines on each arm (like a number '11'). Draw 2 fingers on each hand by drawing 2 letter 'u' shapes or a number '3' like shape on each hand.
Step 15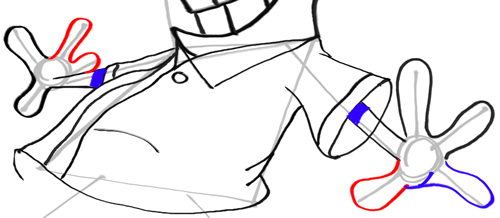 Draw the rest of the fingers. A;sp draw the rectangle shadow at the top of each arm.
Step 16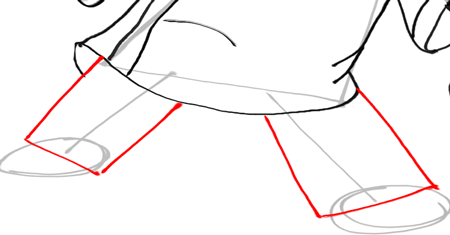 Lightly sketch a rectangle on each leg….we will refine the shape in the next step.
Step 17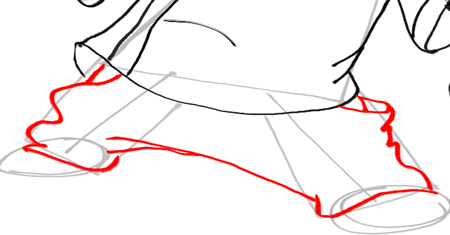 Now refine the shape of the rectangles by drawing squiggly lines on the outside of the pants. The bottom of the pants is very, very close to the ground.
Step 18

Now draw the shoes, zipper panel, and the slingshot loop.
Step 19

Now draw squiggly lines for the bottom of the shoes.
Step 20 – Finished Drawing of Eddy from Ed, Edd, and Eddy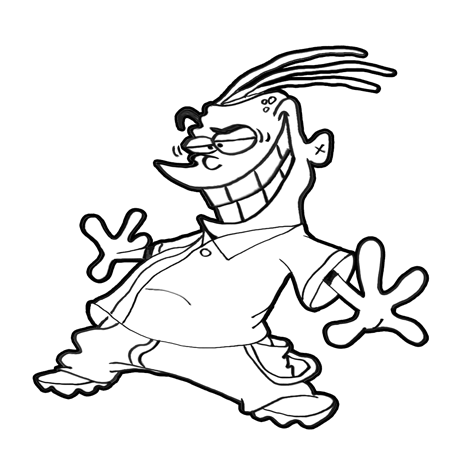 Now you just have to erase lines that you don't need and outline the 'correct' lines with a pen or marker. If you are having problems figuring out which lines to erase, then reference my drawing (above) for help. With the thick outside dark marker line, doesn't Eddy look Awesome?!
You Might Be Interested in Other Ed, Edd, and Eddy Characters Drawing Tutorials
Technorati Tags: ed edd eddy, drawing eddy, how to draw eddy, draw eddy, how to draw, drawing cartoons, cartooning, drawing for kids