People come in all different shapes and sizes….and this goes for people's faces and heads as well. Today we will be covering the different proportions of a 'normal' human head / face….such as the distance between the eyes, nose, mouth, chin, ears, eye brows, hair, etc. Then we will cover the different shapes of comic / cartoon heads and how distorting the proportions and distance between facial features, you can draw humorous faces and even just different shaped faces.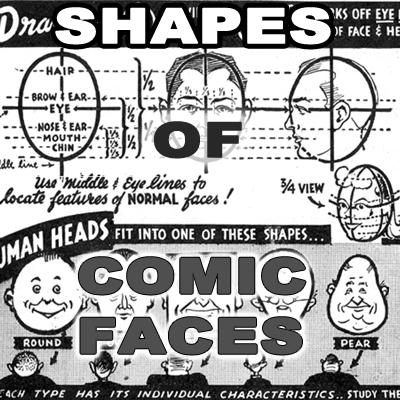 Proportions and Shapes of Comic Human Faces / Heads – Cartooning Lesson

To start drawing the human face, draw an oval. Then divide it with a 't' shape so it looks like crosshairs. Doing this will mar off the eye-line and the middle of the face / head. You use the middle and eye lines to locate the features of a 'normal' face.  The following heads will help you learn how to draw the 'normal' face & head. Later, you can distort the 'average' person's face / head to make humorous cartoon characters.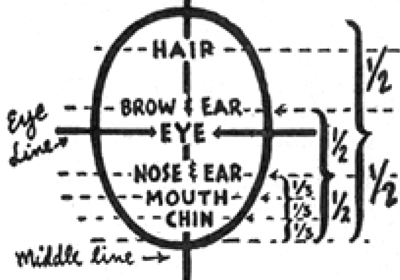 Above, see proportions of a 'normal' person's face. Draw an oval, find the half mark vertically (up and down) and horizontally (right and left). This is the center line and the eye line.
Right above the eye line, put the eyebrow line (also the top of the ear line).
Find the half way point between the brow line and the chin line to the find the nose line (also the bottom of the ear line).
Now separate the point between the nose and the bottom of the oval into 3 equal parts (or in other words, into thirds).  The top line is the nose line. The next line is the mouth line. The last line is the chin line.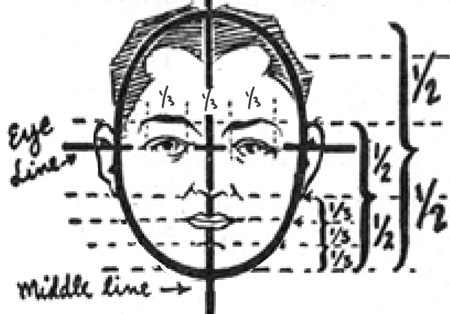 This is the same picture as above, except the person's facial features have been drawn in.

Notice that the first eye, in between the eyes, and the second eye are all the same distance…so to figure out how far to place the eyes apart, you can lightly sketch a third eye in between the first eye and what will be the second eye.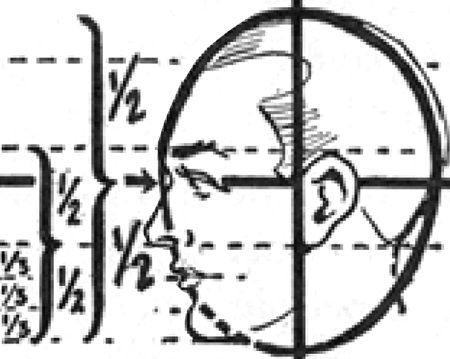 The proportions of the human's face in profile is the same as from the front.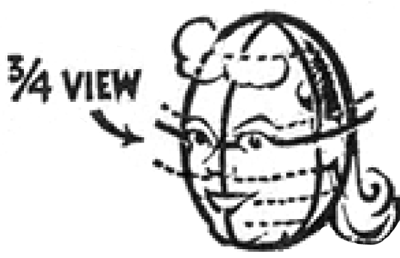 The proportions of the human's face in 3/4 view is also the same as from the front.
Shapes of the Cartoon Human Head / Face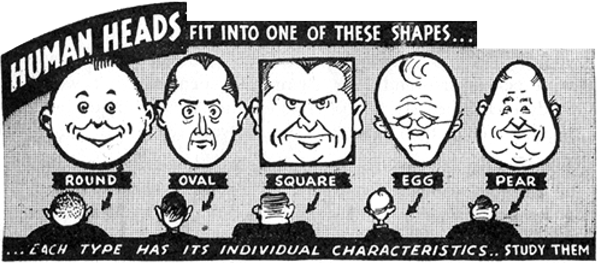 All human heads fit into one of the above head shapes … round heads, oval heads, square heads, egg heads, and pear heads. Each of these types of comic heads has individual characteristics. Study the heads / faces above to figure out how to draw each of them.
Good luck.
Technorati Tags: cartoon heads, cartoon faces, comic heads, comic faces, face shapes, head shapes, types of head shapes, proportions of the face, proportions of the head, how to draw cartoon heads, how to draw comic heads, drawing cartoon heads, drawing cartoon faces, drawing for kids, cartooning, drawing comics