Everybody loves playing Punch Buggy when they see  Volkswagen Beetles driving on the road. Do you want to learn how to draw a Volkswagen Beetle? Below, find the step by step drawing tutorial that will guide you through the illustration process of drawing one of these cars. Kids, teens, and adults alike will be able to complete this drawing tutorial.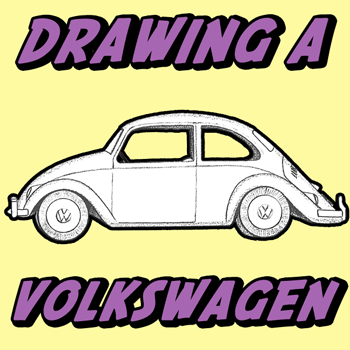 How to Draw a Volkswagen Beetle Punch Buggy with Easy Drawing Lesson
Step 1

It is easier to draw an image in correct proportions if you see it in a grid, like the one above. Draw a grid that looks like the one above. 3 across, 2 down.
Step 2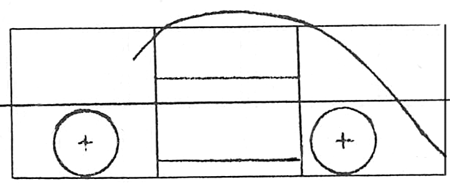 Now, using the grid that you drew in step 1, draw each rectangle, as if each were its own picture.
Step 3

I highlighted the new lines that you have to draw.
Step 4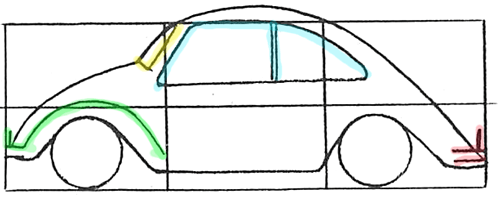 The green line looks like a sideways number '5'. The yellow window looks like a backwards letter 'L'. The blue window looks like a sideways letter 'F' like shape.
Step 5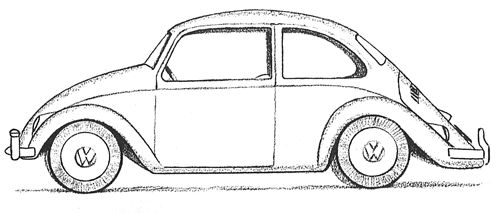 Now that you have the basic shell of the car done…in step #4…you can add the details to get the finished car.
Technorati Tags: draw volkswagen beetles, draw volkswagen beetles, drawing volkswagen beetles, how to draw volkswagen beetles, how to draw punch buggy, draw punch buggy, draw cars, drawing cars, how to draw cars, drawing lessons, drawing tutorials, drawing step by step