Drawing human faces is a daunting task for new artists, cartoonists, and illustrators. Today we have put together a drawing tutorials to show you how to simply draw people's ears in a cartoonish or illustration-styled format. Have fun drawing.
You Might Also Be Interested in Our Other Human Faces Drawing Tutorials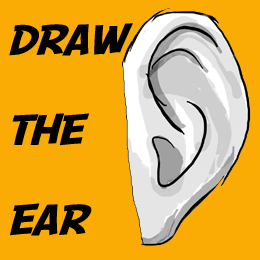 Draw Ears – Simple Step by Step Drawing Lessons
Drawing of the ear can vary in style. As you can notice on the illustrations below, the first character has a simple cartoonish ear, while the second person is almost a realistic in shape. The differences lie in the amount of detail put into each of the faces.
If you are drawing a cartoonish character, the the persona's facial features such as noses, mouths, noses, etc…will not be as detailed. In other words, the facial features, creases, and curves will not be well emphasized.
But if you are working on a style that is somewhat realistic, then you would give much more attention to details and shape.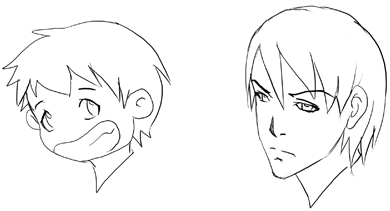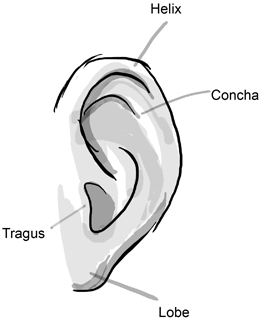 The ear may look very intimidating to draw, but knowing the major parts of the ear makes drawing it much easier. Above you can see a drawing of a realistic ear which can later be simplified for cartoonish-styled drawing techniques.
Familiarize yourself with these 4 major parts of the ear; these are the most prominent parts of the human outer ear.

Above are some simplified ears that are suitable for cartoonish or comic style characters. Observe the level of detail on them and home simple it would be to draw. As you can see, the 4 major parts are not over-stated or even very obvious.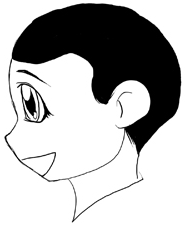 In the above cartoon character, the boy's ear is basically just a backwards letter 'c' with a capital letter 'T' inside of it. It is that easy to draw cartoon ears.
This ear is based on a more realistic styled ear, such as for illustrations. Observe how the creases and shape are emphasized much more in this drawing.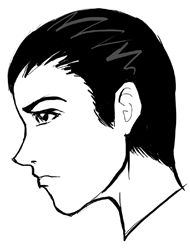 Above, you can see the illustrated-style ear in the picture of this young man.
Here Are Even More Drawing Tutorials for Drawing People and Human Faces
Technorati Tags: draw ears, how to draw ears, drawing ears, cartoon ears, draw cartoon ears, comic ears, drawing comic ears, illustrated ears, human ears, how to draw, drawing lessons, drawing tutorials