Do you want to learn how to draw babies? Here is an instructional tutorial on how a fellow illustrator draws his baby characters. I hope that you enjoy it.
Here are More Baby Drawing Tutorials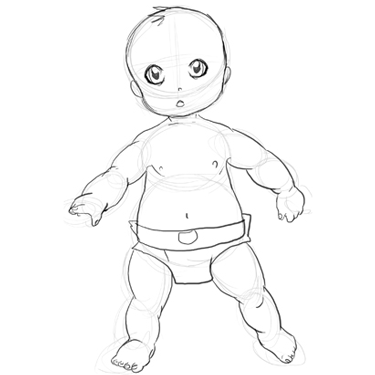 How to Draw a Baby : Drawing Babies Step by Step Lesson
Baby's body can be easily drawn by using a simple and quick approach. But first, here are some pointers when drawing a baby in Manga / Anime Illustration style:
(1) Baby's head takes up around 1/3 of their bodies.
(2) The nose is not pointed and not yet fully developed, so it has to be drawn small and not well defined.
(3) Make the eyes large and round.
(4) The mouth is not well definted as well. Sometimes a simple tiny line is used when drawing a closed mouth and a small irregular circle when closed.
(5) Small ears.
(6) Eyebrows are not visible.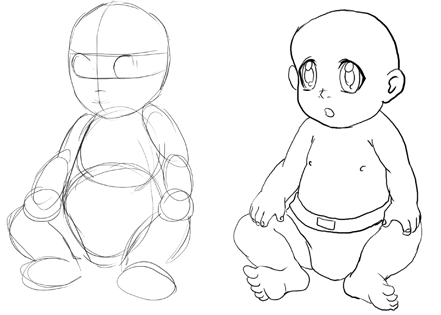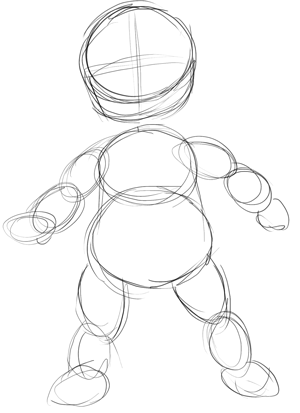 Here is the basic foundation when drawing a baby figure. This is a simple approach to easily from the structure of a baby's body compared to a stick figure approach.
Since baby's bodies have a multitude of folds, bends, and ripples, a circle shape can be useful to mass out the base form.
Make a series of circles of varying sizes until you can form a baby figure similar to the above illustration.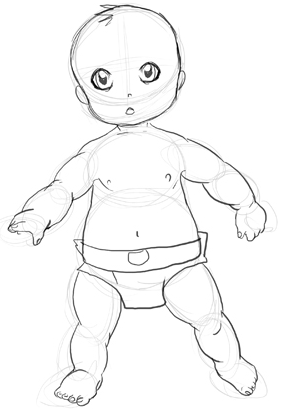 With the circles as the underlying guidelines, trace and follow the prominent contour of the baby's figure.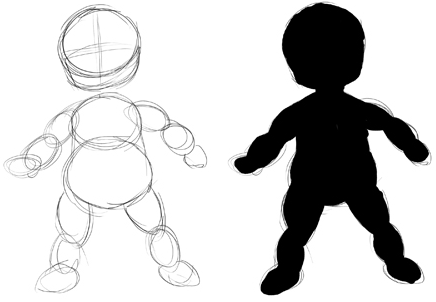 You can also make a silhouette out of the figure to fully pick up the shape of the baby character.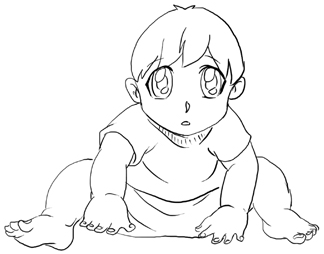 Using this drawing technique, you can build the baby figure and add up all your creative additions to it by adding clothing.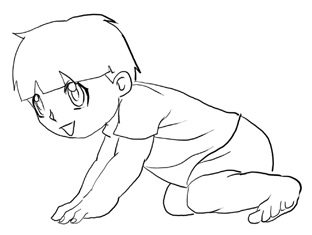 You can pose the baby figure in any way you like without ruining his proportions.
Here are even more Baby Drawing Lessons
Technorati Tags: cartoon baby, cartooning babies, draw cartoon baby, draw baby, drawing baby, how to draw baby, draw babies, drawing babies, how to draw babies, how to draw, drawing lessons, drawing tutorials, drawing step by step, baby, babies, draw faces, drawing faces, draw heads, drawing heads