Today I will teach you how to take an ordinary capital letter 'B' and draw a cute cartoon bird sitting on a branch with it. If you like drawing cartoons out of alphabet letters, then this will be a fun drawing / cartooning tutorial for you and your friends. This is a great drawing lesson for kids and preschoolers. (We did a 2nd version of a letter 'B' Bird…try this one out too!)
You Might Also Be Interested in Our Other Alphabet Letters Drawing Lessons
You Might Also Be Interested in Our Other Bird Drawing Tutorials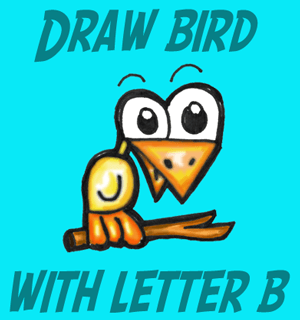 How to Draw  Cartoon Bird with Alphabet Letter B for Kids
Step 1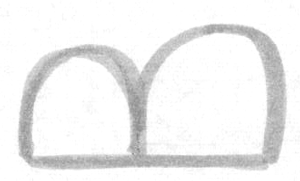 Draw a sideways capital letter 'B'.
Step 2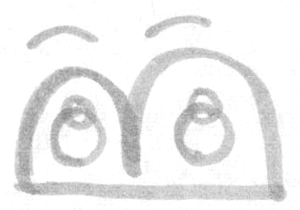 Draw curved eyebrows over the letter 'B'. Draw 2 number '8' like shapes inside the eyes (the capital letter 'B').
Step 3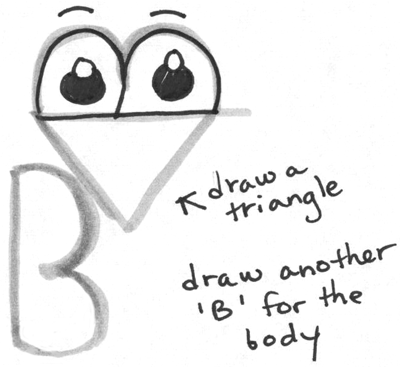 Now draw a triangle for the beak. Draw another capital letter 'B' for the bird's body.
Step 4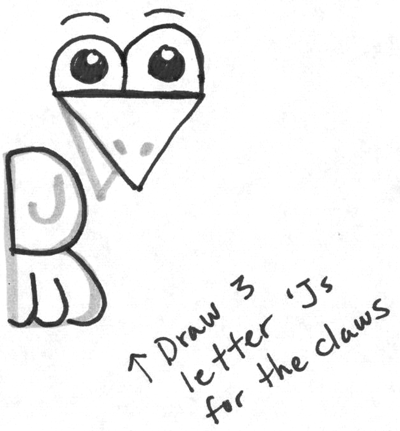 Now draw 2 sideways ovals inside the triangle beak for nostrils. Also draw another triangle (this one long and thin) to the left of the first triangle beak. Draw 3 letter 'J's for the claws and one for the wing.
Step 5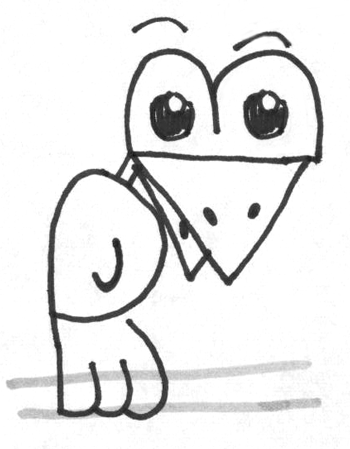 Now draw 2 parallel lines through the bird's claws (this will be the branch that the bird is sitting on).
Step 6

Now draw a sideways letter 'V' to the right of the branch and draw an oval to the left of the branch…as pictured above.
Step 7 – Finished Drawing of Cartoon Bird Sitting on a Branch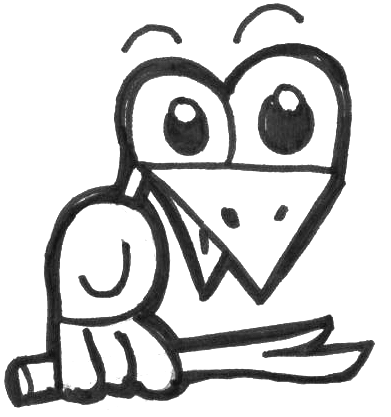 Above you can see what the bird should look like when finished. However, you can make the bird look the way that you want. You can now erase lines that you don't need anymore (and mistakes) and you can darken the important outlines of the bird. Show your bird drawing skills off to your friends and family members.
(We did a 2nd version of a letter 'B' Bird…try this one out too!)
You Might Also Be Interested in Our Other Alphabet Letters Drawing Lessons
You Might Also Be Interested in Our Other Bird Drawing Tutorials
Technorati Tags: draw cartoons, draw cartoon bird, drawing cartoons, draw birds, drawing cartoon birds, draw comics, drawing comics, drawing for kids, drawing for preschoolers, drawing for toddlers, letter B