Page : 1 2
Do you want to learn how to draw Spearow, one of the most popular of all Pokemon characters amongst boys and girls? I have put together a step-by-step tutorial that will help you figure out how to draw Spearow by using simple shapes to build up Spearow's form. This is an intermediate cartooning tutorial that older kids, teens, and adults will enjoy. Even some younger children might be able to draw Spearow if you stand by to help with the instructions. Enjoy!
More Pokemon Drawing Tutorials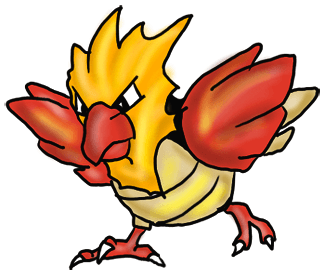 Step by Step Drawing Lesson : How to Draw Spearow from Pokemon for Kids
Step 1
We will start Spearow's face with his beak. First make a sideways smiley-type curve (slanted towards the left).
Step 2

Now lets draw the second part of Spearow's beak. If you look at the red shape, in the picture above, you will see that the bottom part looks like an upside down 'V'. So first draw the upside down 'V' an then slightly above that make an upside down 'U' for the top of the beak. Then connect the bottom an top part of the red beak with lines that curve slightly inwards. Also make a line at the top right of this shape.
Step 3

Now we will draw Spearow's chin and eyes. First draw the chin….it is just a small curved line. Now we can draw the eyes of spearow. Think of making 2 big 'V's. I drew pink lines to show you how the eyes can look like 2 'V's if you try to imagine those lines. Finish the eyes by making the eyeballs. In the right eye, the eyeball is a square with a white circle in the center. On the left the eye ball is hardly seen…it is just a slight rectangle.
Step 4

This part looks complicated, but each complicated shape can be broken down into simpler shapes….for example at the bottom you will see a bumpy V', and to the right of that you will see a capitol 'E' shape, and above that you will see an 'M' shape. Use your imagination and you will be able to draw it.
Step 5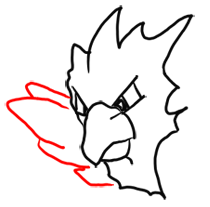 Now lets make Spearow's left wing. This is another complicated shape that can be broken down to a few sideways 'U's and one sideways 'V'.
Step 6

Now lets draw Spearow's right wing. raw a large sideways 'U' and then make smaller sideways 'U's in the opposite direction. Also connect the wing  to Spearow's head with 2 small, curvy lines.
Page : 1 2
Pages: 1 2