Page : 1 2
Do you want to learn how to draw Pidgeotto, one of the most popular of all Pokemon characters amongst boys and girls? I have put together a step-by-step tutorial that will help you figure out how to draw Pidgeotto by using simple shapes to build up Pidgeotto's form. This is an intermediate cartooning tutorial that older kids, teens, and adults will enjoy. Even some younger children might be able to draw Pidgeotto if you stand by to help with the instructions. Enjoy!
More Pokemon Drawing Tutorials
How to Draw Pidgeotto from Pokemon for Kids : Step by Step Drawing Lesson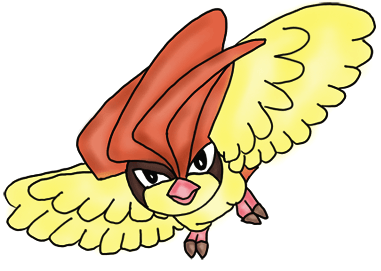 The above picture is a picture of a Pokemon character named  Pidgeotto, and this is what we will be drawing step by step today. Find this drawing tutorial below. Get out a piece of paper, a pencil, and a black marker. Good luck.
Step 1

Take out your piece of paper and your pencil..we are about to sketch. Look at the picture above. I know that this doesn't look like much yet, but you have to start somewhere. Just lightly draw out a circle. Don't worry about mistakes because you can erase these later. Later, you will be using a pen or marker to outline the 'right' lines.
Step 2

Now lets draw Pidgeotto's eyes. The sort of look like sideways triangles. Also draw a curved downwards facing line on each side of Pidgeotto's face.
Step 3

Now draw Pidgeotto's inner eyes…2 ovals. Also drae his beak….a diamon with a 'U' like shape in the lower middle of it.
Step 4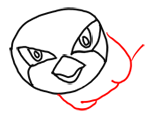 Now just draw the bottom of Pidgeotto's body. If you look at his body the left side looks like an 'L' and and then further right is an upside down number '3'.
Step 5

Now draw 2 upside down 'E's for Pidgeotto's feet.
Page : 1 2
Pages: 1 2