If you ever wondered how to draw a cute cartoon fish, well look no further because this is an easy drawing lesson that you can imitate. I have put together a simple cartooning tutorial for kids and adults alike to try and learn from. Good luck.
You Might Also Like a previous drawing tutorial – How to Draw a Cartoon Puffer Fish / Blow Fish … and another fish cartooning lesson .. How to Draw a Cartoon Fish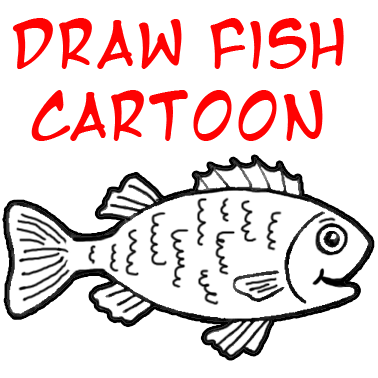 How to Draw a Cartoon Fish Step by Step Drawing Tutorial for Kids
Step 1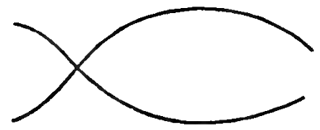 Draw 2 curved lines that criss-cross like the above lines.
Step 2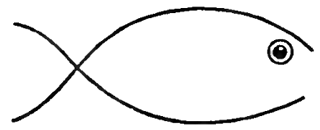 Now draw the fish's eyeball on the top right of this shape by first drawing a circle and then drawing a smaller circle. Fill this smaller circle in except for a small dot (for the highlight of the eye).
Step 3

Then close the fin off with a curved line. Also draw the mouth by drawing a capital 'L' like shape (that is slanted downwards).
Step 4

Then draw a curved line for the gills.
Step 5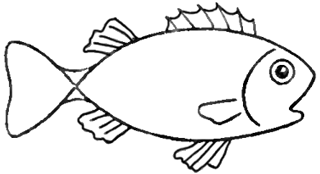 Then draw more fins … they really can be any shape you want…fish have all different sized and shaped fins…but you can just draw what I drew too, if you want. Also draw 2 outward curved lines around the 'x' shape that we made in step #1.
Step 6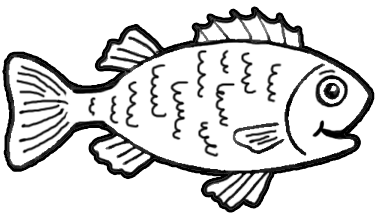 Now make the mouth a smile by curving it up a bit and drawing a backwards curved line at the edge of the mouth. Draw squiggly 'm' type lines on the fish for scales. Erase any lines that you don't need and darken the outside lines for a nice fish cartoon that will wow your friends.
You Might Also Like a previous drawing tutorial – How to Draw a Cartoon Puffer Fish / Blow Fish … and another fish cartooning lesson .. How to Draw a Cartoon Fish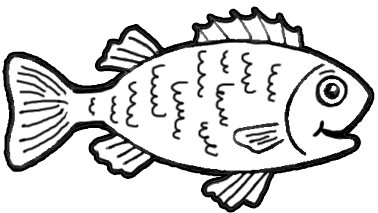 Technorati Tags: draw a fish, how to draw a fish, drawing fish,   fish, cartoon fish,   drawing for kids, draw a fish cartoon, cartooning fish, how to draw for kids, drawing tutorials, drawing lessons, step by step drawing