Do you want to learn how to draw a cartoon dog running, jumping, and playing? I have put together a step-by-step tutorial that will help you figure out how to draw dogs by using simple shapes to build up their form. This is an intermediate cartooning tutorial that kids, teens, and adults will enjoy. Even some younger children might be able to draw bunny rabbits if you stand by to help with the instructions. Enjoy!
You Might Also Enjoy this Cartoon Dog Drawing Tutorial and This Dog Drawing Lesson as well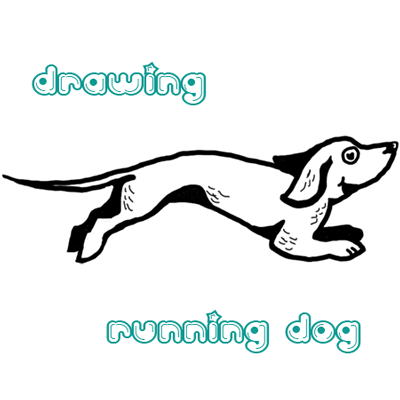 How to Draw Cartoon Dog Running, Jumping, and Playing
Step 1

First draw a curved line like this.
Step 2

Then draw an oval like shape for the dog's head. Also draw a lowercase 'n' like shape for the dog's snout. Also draw a circle for the eye and a smaller circle inside the eye for the dog's pupil …leave a space out of the circle for the eye's highlight.
Step 3

Now lets start drawing the dog's legs. The back leg is a squiggly line. The green leg looks like a capital letter 'L'.
Step 4

Lets draw more. Draw a sideways letter 'u' for the dog's paw (in pink). Draw a green line and then draw a sideways letter 'T' (in orange). Then draw a wavy line (in green).
Step 5

Now draw the bottom of the dog's tail (in pink). Draw a 'c' like shape for the dog's back paw (in purple) and an aqua sqiggly line for the back leg. Also draw the back front paw (in green)…sort of looks like a 'J' like shape. Also draw a triangle like shape for the dog's nose.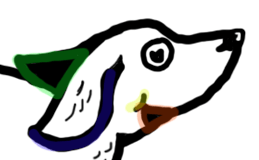 Take a closer look at the dog's face. Draw the dog's mouth … a traingle-like shape (in pink) for the dog's mouth. Draw a curved line (in yellow). Draw the dog's back ear (green triangle). Also draw the dog's front ear (sort of looks like a backwards letter 'J' with part of the top missing).

To make the dog look like a graphic, I put used a lot of black for shadows. Get a black pen out and color in the shadows and draw some fur lines as well. How did your doggy drawing turn out?
You Might Also Enjoy this Cartoon Dog Drawing Tutorial and This Dog Drawing Lesson as well
Technorati Tags: draw dogs, drawing dogs, how to draw a dog, draw cartoon dogs, how to draw cartoon dogs, how to draw, drawing, drawing for kids, drawing tutorials, drawing lessons