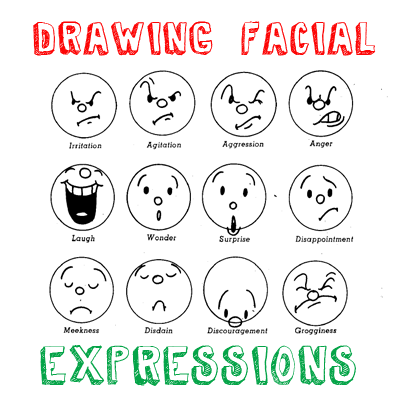 How to Draw Cartoon Emotions & Facial Expressions Drawing Tutorials
You can change the expressions on your face without changing your emotions (by acting) but don't you wish that drawing facial expressions was just as easy? Well, with practice, you will see that it is just this easy and a LOT of fun to try. Most facial expressions can be easily made by changing the size, shape, and relationship of eyes, nose, and mouth and other parts of the face such as eyelids and eyebrows. If you want to be a cartoonist, an illustrator, an artist or just simply good at drawing, it would be a good idea to start studying people's faces. Keep a sketchpad with you at all times and when you see people's faces change in emotion, quickly draw a simple shape (as seen below) to chart out all of the differentt expressions that a person's face can make. It would also be a good idea to study your own face in the mirror as you make silly and crazy faces. This is a lot of fun and is a good drawing exercise for beginner artists.
You Might also find the previous drawing article helpful : How to draw Cartoon Emotions and Expressions in Characters Eyes
We began your facial expressions chart below…print it out and keep it as reference. Try to draw these faces in your new chart.

Facial Expression : Anger … Aggression

Facial Expression : Agitation


Facial Expression : Angry … Furious … Violent Anger


Facial Expression : Calm and Composed … really no emotion at all … maybe a blank stare even


Facial Expression : Discouraged, Sad, Disappointed


Facial Expression : Disdainful, Conceited, Prim & Proper, Judgemental


Facial Expression : A little confused and a little Disappointed


Facial Expression : Happy, Joyful, Excited possibly


Facial Expression : Grumpy, Groggy, Constipated, Angry


Facial Expression : Grumpy, Angry, Furious, Impatient, Irritated


Facial Expression : Overjoyed, Laughing, Hysterical, Happy


Facial Expression : Content, Happy, Smiling, Joyful


Facial Expression : Surprised, Scared, Frightened


Facial Expression : In Wonder, Surprised, Shocked
Technorati Tags: facial expressions, facial emotions, drawing emotions, cartoon emotions, cartoon expressions, cartoon characters, draw facial expressions, face expressions,   drawing facial expressions, how to draw, drawing, drawing step by step, drawing for kids, cartooning, how to cartoon, drawing cartoon characters