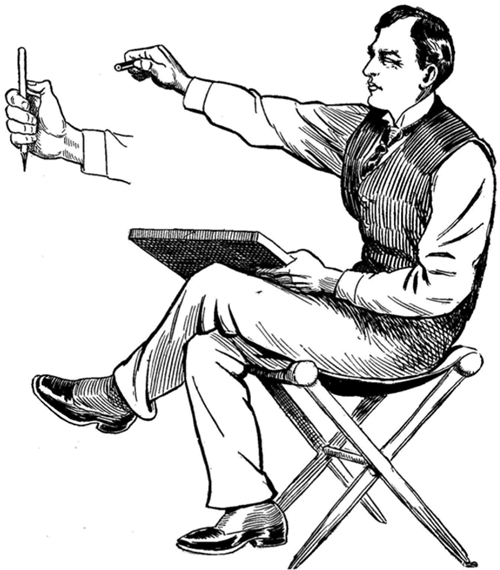 How to Find Measurements, Proportions, and Angles to Draw with Pencil & Thumb Method
The only way that a beginning artist can develop the ability to see and then indicate correct proportions is to become acutely aware of proportions by observation and practice sketching. Unfortunately nobody can teach you this important phase of drawing. But you CAN estimate proportions and then check them with a fair degree of accuracy by employing what is called the thumb-and-pencil method of finding proportions. This is done by simply placing your pencil or pen in your hand and then holding it at arms length between your eye and the object that you plan to draw.
AN EASY EXPLANATION OF HOW TO USE YOUR EYE ALONG WITH YOUR PENCIL AND THUMB TO ESTIMATE PROPORTIONS WHEN DRAWING
(1) Hold your body rigid and extend your dominant arm (usually the right arm), pencil in your hand, to its full length.
(2) Place your thumb against the pencil as a guage.
(3)Bring the pencil on a line with your eye and the object that you are measuring.
(4) Try to find one part by which you can then measure the rest of the object.
(5) Once you find a part to which to measure the rest of the parts of the object, you can then proceed to put in the object's details, still using the same scale of measurement in which you established.
AN EXAMPLE OF USING A PENCIL AS A MEASURING STICK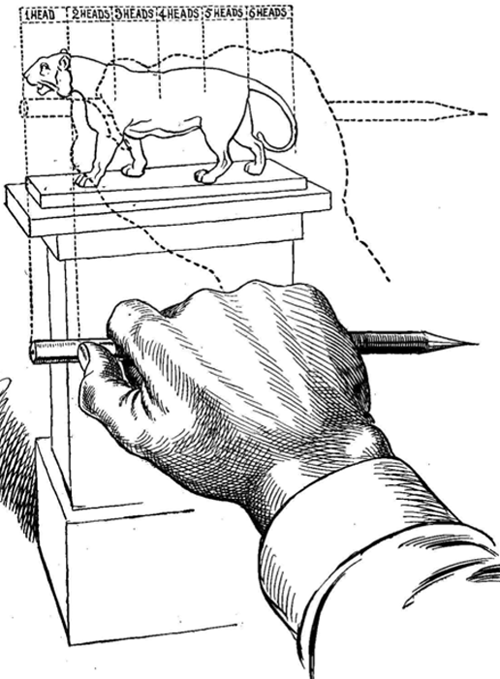 In this example, you can see that the artist is using the pencil and thumb measuring method that we just explained above. The artist finds that the tiger's head is just 6x (6 times) the length of his body (from the tiger's nose to his tail). Once the artist has established this, he applies this same head scale of measurement to the tiger's height as well (which is approximately 3 heads high). Now that the artist has figured out that the tiger is 6 heads wide and 3 heads tall, he can then proceed to put in the details, still using this same scale of measurement.
A SECOND EXAMPLE OF USING A PENCIL AS A MEASURING STICK & TO FIND ANGLES