Page : 1 2
Do you want to learn how to draw an insane looking, silly, crazy Spongebob Squarepants character? We have put a step by step drawing tutorial for you to learn how to draw a crazy Spongebob Squarepants. Kids, teens, and adults should all be able to to complete this instructional lesson. Here are our previous Spongebob Squarepants tutorials.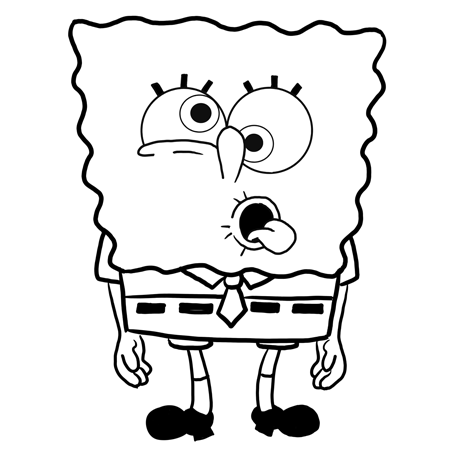 How to Draw Silly  Crazy Spongebob Squarepants with Easy Step by Step Drawing Lesson
Step 1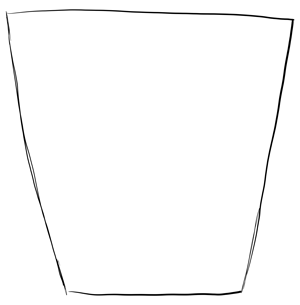 To start drawing the crazy Spongebob Squarepants, draw the shape that you see above (just draw a rectangle that is bigger at the top and smaller at the bottom.) This will be the main section of Spongebob's body.
Step 2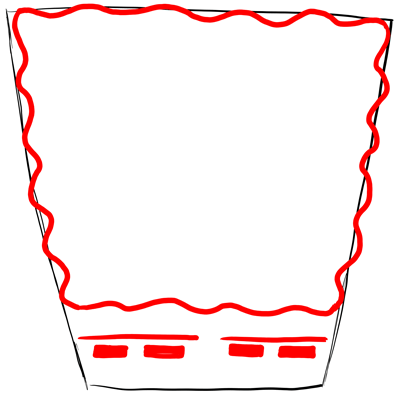 Now draw squiggly lines all along 3/4 of Spongebob's body that you drew in step #1 (see the picture above). Below the squiggly lines draw his  pants' belt area by drawing a line  (if you want leave a blank space for the tie). Now you can draw 4 filled-in rectangles below this line for the belt and belt loops.
Step 3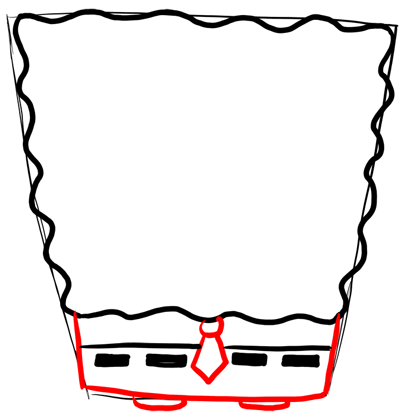 The tie is made up of a few simple shapes. You can draw Spongebob's tie by drawing a circle and the 2 outward slanted lines connected by a letter 'V' like shape. You can also draw the pants by drawing an open-at-the-top rectangle like shape below the squiggly lines that you drew in the 2nd step. Also draw oval shaped pants legs.
Step 4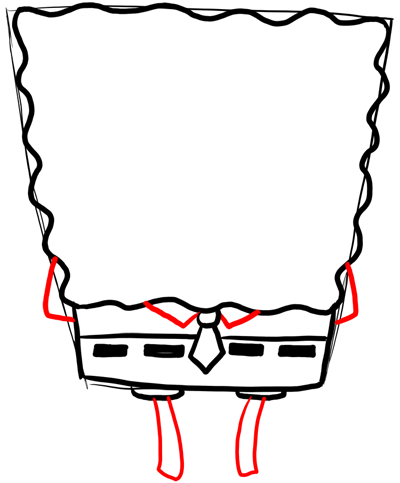 Draw Spongebob Squarepants' shirt sleeves by drawing a letter 'L' shape for the left sleeve and a backwards letter 'L' for the right sleeve. Draw his shirt collars by drawing a letter 'V' on both sides of the tie. Draw Spongebob's legs as well by drawing curved, thin, rectangle-like shapes.
Step 5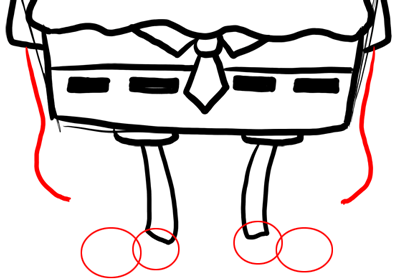 Now lets start working on Spongebob Squarepants arms. You can draw upside down question mark shapes for each arm. Also lightly sketh a number '8' like shape for each shoe, at the bottom of his legs.
Step 6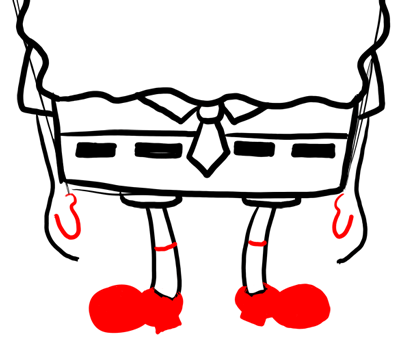 Now you can color in Spongebob's shoes by filling in the number '8' shapes that you drew in previous step. Also draw rectangles at the bottoms for soles. Draw a line for the top of each sock. For the left thumb draw a number '3' like shape…for the right thumb draw a backwards number '3' like shape.
Page : 1 2
Pages: 1 2