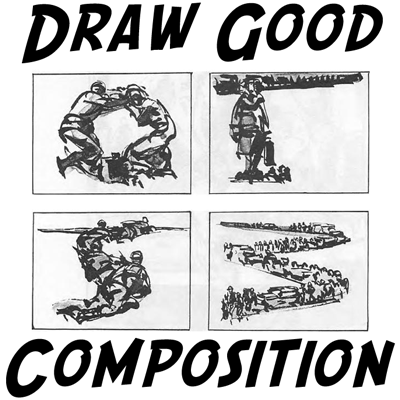 Drawing Picture Composition – How to Draw a Picture with Good Composition Lesson
The main objective of every picture is to hold the attention of the viewer as long as possible. The organization of a picture contributes a great deal towards this end. The ability to create harmony, unity and balance can start with a few basic rules. The circle, the pyramid, the T, the S, the zig-zag and variations or combination of the underlying designs can help develop a sense of composition.
The first rule of order to follow is to always place your subject matter in a shape that will afford the best composition. The most common mistake of the student is to use whatever size of paper a manufacturer makes. When drawing from the model, still life or landscape, and you have decided what you are going to draw, pick the size that your subject will best compose in. Drawing at random from the model results in bad amputations of the figure. Great art or good pictures are never created this way–be it a single figure or a large mural containing a great deal of subject matter. Try to imagine someone attempting to paint a mural, an illustration, or a piece of advertising art by just starting in the center of the space and allowing the composition to end at the edges. Everything from a postage stamp design to the Sistine Chapel mural had to be composed best to fill the area with the best possible design.
Numerous sketches are made in order to create a sense of balance and unity. Nature is very seldom in perfect harmony. The creative artist first makes his compositions, then gets his models and background material for study — either from life or photographs–and after a careful drawing of everything combined, proceeds to enlarge it on his paper, canvas or wall.
Here are Some Examples of Good Picture Composition
Below see the basic shapes that a good composition can follow:
Technorati Tags: composition, art composition, picture composition, drawing composition, composition lesson, composition tutorials, drawing good composition, how to draw, drawing lesson, drawing tutorial