We have discussed and illustrated how to draw Manga / Anime faces and heads…now lets discuss the difference between male and female facial structures and features.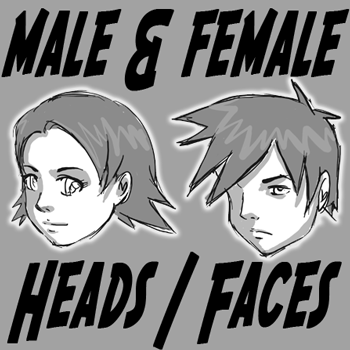 After learning the basic construction of the Manga / Anime head (Here are Our Previous Manga / Anime Drawing Tutorials), there are other important factors yet to remember. There are many different types of heads and faces to be constructed. Such as the difference between the male and female head. You should know what makes an Anime / Manga  female head look so feminine compared to a males' head.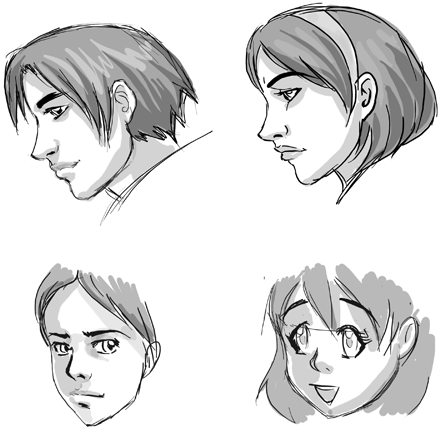 All parts of the head such as the eyes, nose, mouth, etc. must work in harmony. A girl or woman's feminine features must be attached to the appropriate head & face.
An empty head alone speaks for itself in terms of gender and age. There isn't a mystery when drawing the head. just consider the gender, age. etc…and shape it accordingly.
Observe and compare the difference between the two empty heads and see how the SHAPE affects a character. Talking about head construction, the shape is the key to make a male or female head .(excluding the eyes, nose, etc…)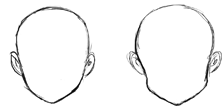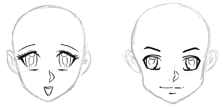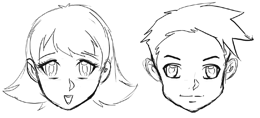 For a realistic drawing, an ideal male head often has a well pronounced jaw compared to females.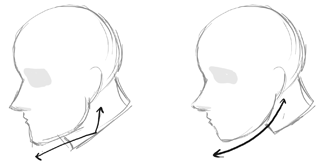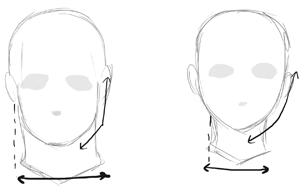 Female heads tend to have narrower necks than males, and the same principle can be applied to Anime / Manga characters. Although Anime and Manga characters are not as detailed as a realistic human figure, Manga has a distinct head for every character.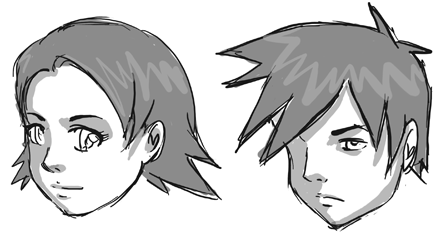 NOTE: In some Anime/Manga characters, a single head can sometimes be used on both female and male characters, especially on young characters where the head's profile isn't that much developed and tends to have round face. But there are other styles that do emphasize and implement appropriate head shapes to  certain characters. For this reason, it is always good to know the different approaches dealing with Anime/Manga head construction.
Technorati Tags: female manga faces, female anime faces, male manga faces, male anime faces, anime faces, anime heads, how to draw anime heads, how to draw anime faces, drawing anime heads, drawing anime faces, how to draw manga faces, how to draw manga heads, easy  manga, easy anime, manga drawing, draw manga, manga drawing lessons, anime drawing lessons, how to draw anime, how to draw manga, manga characters, anime characters, how to draw, drawing step by step, drawing for kids, easy drawing