Today I will teach you how to take an ordinary capital letter 'A' and draw a Cartoon Wizard and Wizard's Hat with 5 Pointed Stars on it. If you like drawing cartoons out of alphabet letters, then this will be a fun drawing / cartooning tutorial for you and your friends. This is a great drawing lesson for kids and preschoolers.
You Might Also Be Interested in Our Other Alphabet Letters Drawing Lessons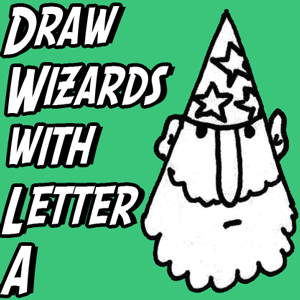 Drawing Wizards with Letter A in Easy Steps with Tutorial for Kids
Step 1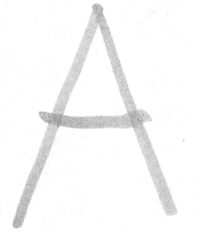 Lightly Sketch a Letter 'A'.
Step 2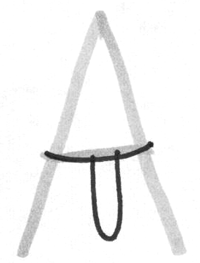 See the line that goes across of the capital letter 'A"….instead of it being straight across, make it an upwards curved line for the bottom of the wizard's hat. Then make a tall letter 'U' for the Wizard's nose, coming out of the bottom of the Wizard's Hat.
Step 3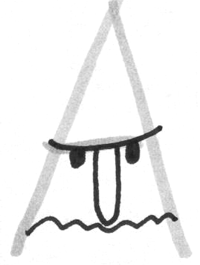 Now draw each of the Wizard's eyes by drawing 2 filled in ovals.  Then draw a squiggly line below the nose for his beard.
Step 4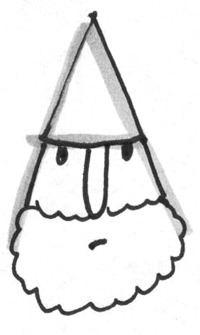 Now draw squiggly lines all around his face for the beard, sort of like a cloud. Also draw a slanted line for his mouth, right below the nose.
Step 5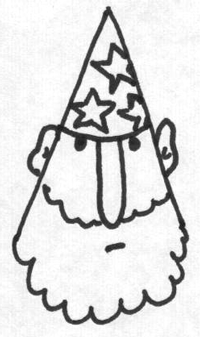 Now you can draw ears on the Wizard by drawing a letter 'c' on either side of his face (one backwards) … draw a mini 'c' inside each ear for the inside of his ears. If you want, draw stars inside of the Wizard's hat. If you don't know how to draw 5 pointed stars, follow the tutorial : How to Draw 5 Pointed Stars.
You can color in your Wizard with crayons, colored pencils, watercolors, acrylics, pastels, etc…or just leave him black and white. Have fun and good luck.

Now all that is left is to wow your friends with amazing drawing &  cartooning abilities.
Technorati Tags: draw cartoons, draw cartoon wizard, drawing cartoons, draw wizards, drawing cartoon wizards, wizards, wizzaards, draw comics, drawing comics, drawing for kids, drawing for preschoolers, drawing for toddlers, letter A, alphabet, alphabet letters