Page : 1 2
Do you want to learn how to draw Candace Flynn from Phineas and Ferb? Candace is Phineas' and Ferb's older sister who is always trying to get them in trouble. My kids have a favorite cartoon on Disney and that is Phineas and Ferb. I have to admit that I love it too. My husband and I just crack up every time we see this show and my 2 year old baby daughter knows the words to the song already. I have put together a step-by-step tutorial that will help you figure out how to draw Candace by using simple shapes to build up Candace's form. This is an intermediate cartooning tutorial that older kids, teens, and adults will enjoy. Even some younger children might be able to draw Candace if you stand by to help with the instructions. Enjoy!
How to Draw Perry the Platypus (Agent P)
How to Draw Phineas Playing a Guitar
How to Draw Perry the Platypus (Pet)

How to Draw Candace from Phineas and Ferb for Kids : Step by Step Drawing Lesson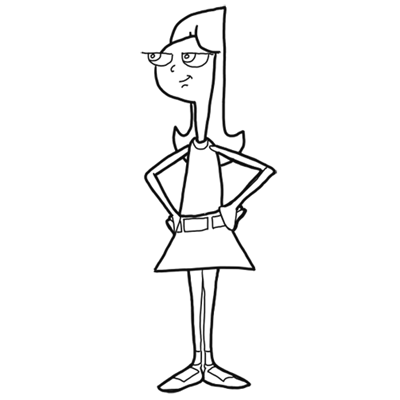 We will be Drawing This Picture of Candace today (see above picture).
Step 1 A
draw a circle
Step 1 B
Now draw 2 lines pointing inwards with a rectangle at bottom of it.
Step 1 C
Draw a triangle.
Step 1 D
Draw sideways letter V shapes for arms. Draw 3 lines for legs.
Step 1 E
Lightly draw circles for hands and ovals for feet
Step 1 F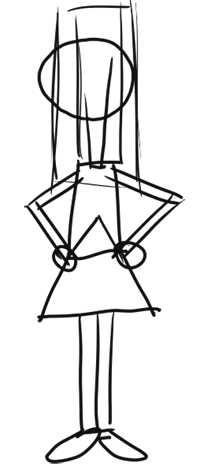 Now just draw the basic shape of the hair…basically a rectangle shape.
Step 2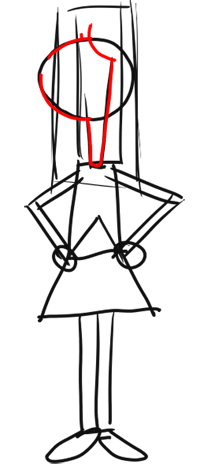 Now we can hone down the more 'accurate' shape of Candace's head and neck and start to draw out the shape of her hair line. Doesn't it sort of look like a number '9' now? Don't worry about mistakes because you can erase these later. Later, you will be using a pen or marker to outline the 'right' lines.
Step 3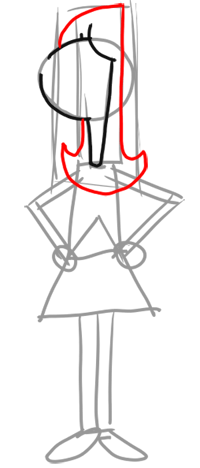 Now lets draw the outline of Candace's hair. The bottom of her hair looks like a letter 'U' and the right side of her hair sort of looks like the number '7'. If you see things as letters or numbers, it helps you draw complicated shapes easier because these complicated shapes no longer look complicated. Make up your own tricks to make drawing easier.
Step 4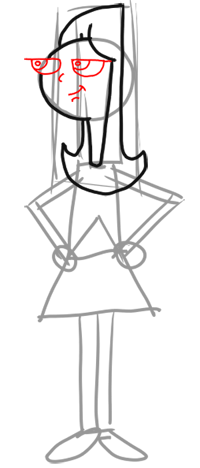 Now lets draw Candace's facial features, including her eyes, nose, mouth, and chin. Her eyes are ovals which are partially hidden behind her eye lids…so they look like upside down baseball hats. Inside Candace's eyes draw 2 circles. Candace's nose looks like an 'L'. Her mouth looks like a curvy 'T', and her chin looks like a 'C'. You can do it.
Step 5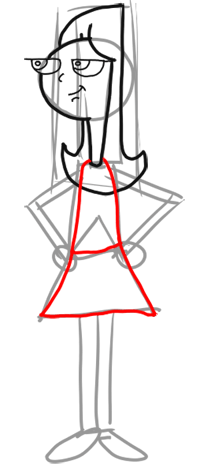 Now lets hone the shape of Candace's body / torso. Doesn't it sort of look like an 'H' that's bottom legs go outwards a bit?
Step 6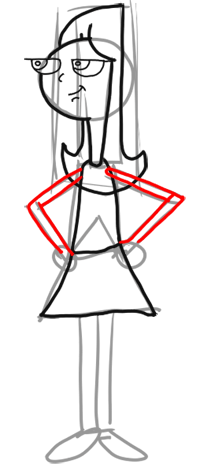 Now draw out Candace's arms…this shouldn't be too hard since the gray outline that we drew first already had this drawn.
Page : 1 2
Pages: 1 2