Step 12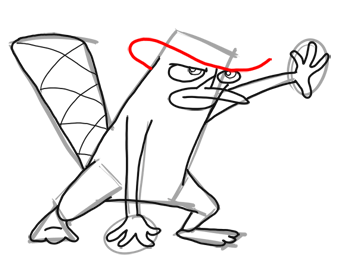 Now lets draw the rim of the hat. The hat as a while is a complicated shape, but broken down, in smaller parts, the hat is not so complicated. The rim of the hat looks like an 'S' that is flipped over. If you can write letter, you can draw.
Step 13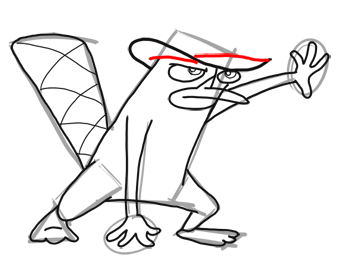 Now make 2 lines in the spots where I drew them.
Step 14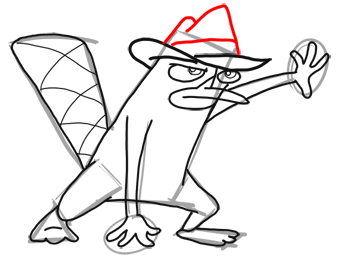 Now finish the hat. The top of the hate looks like a letter 'M'. Just finish the hat's strap by making another line. You finished the hat…and Perry, that wasn't so hard….or was it?
Step 15 – Finished Perry the Platypus Drawing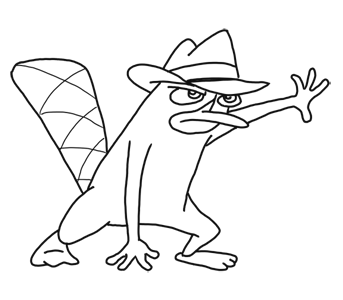 Now you just have to erase lines that you don't need and outline the 'correct' lines with a pen or marker. If you are having problems figuring out which lines to erase, then reference my drawing (above) for help. Now you will have an amazing cartoon Perry the Platypus (Agent P) drawing from Disney's Phineas and Ferb to show off to your friends.
How to Draw Perry the Platypus (The Pet)
Find Out How to Draw Ferb from Phineas and Ferb
How to Draw Phineas from Phineas and Ferb
How to Draw Candace from Phineas and Ferb
How to Draw Phineas Playing a Guitar
Technorati Tags: draw Perry, draw Perry from Phineas and Ferb, draw Perry the Platypus, drawing Perry the Platypus, how to draw Perry the Platypus, draw Perry the Platypus from Phineas and Ferb, draw Agent P, Draw Agent Perry, drawing Perry the Platypus from Phineas and Ferb, Perry the Platypus, Perry the Platypus from Phineas and Ferb, draw Phineas and Ferb characters, Phineas and Ferb, Phineas and Ferb characters, how to draw, drawing cartoons,   learn how to draw, drawing lessons, drawing tutorials, cartooning, cartooning for kids, drawing for kids