Step 12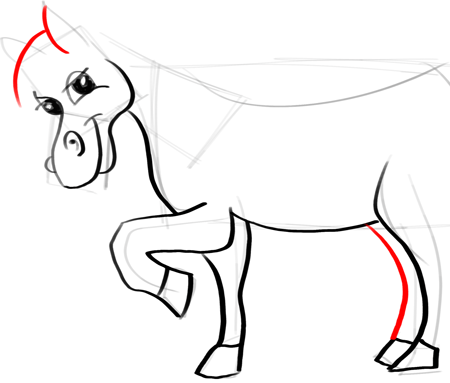 Draw a capital letter 'T' (curved) like shape on the top of the horse's head. Also draw a curved line for the back leg.
Step 13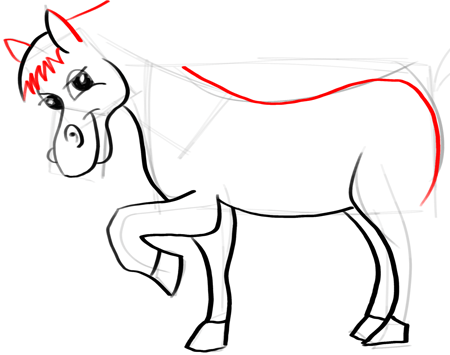 Draw a letter 's' like shape on the top of the horse for the horse's back and tushie. Also draw the horse's hair and ears. The ears look like upside down letter 'v's.
Step 14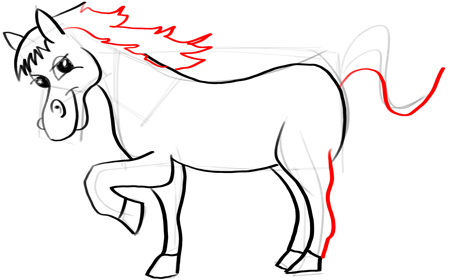 There is a lot of hair on the horse's main…draw it with a bunch of 'm' like shapes. Draw a curvy line at the back of the horse's back leg. Also draw a backwards letter 's' like shape for the tail.
Step 15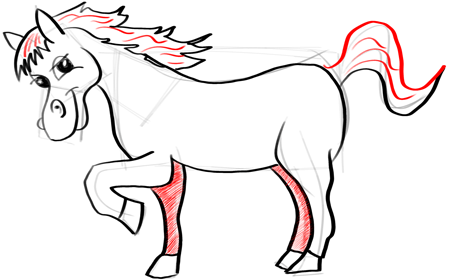 Draw another backwards 's' like shape for the tail. Also draw curvy lines on the main and tail for the horse's hair lines. If you want to shadow the back legs, then you can draw a bunch of lines that are close together.
Step 16 – Finished Cartoon Drawing of a Horse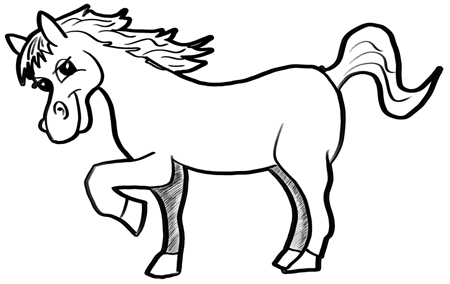 Now just erase lines that you don't need and outline the 'correct' lines with a black pen or marker. Making thick, interesting lines instead of the thin pencil lines makes quite a difference in the end result, doesn't it? If you are having problems figuring out which lines to erase, then reference my drawing (above) for help. Now you will have an amazing cartoon drawing of a cartoon whimsical horse to show off to your friends.
You Might Also Enjoy the Tutorial – How to Draw Cartoon Horse's Heads / Faces.
Technorati Tags: draw horses, draw a horse, drawing horses, how to draw horses, drawing cartoon horses, how to draw cartoon horses, how to draw, drawing, drawing lessons, drawing tutorials, drawing for kids, cartooning, cartooning lessons