There are many different methods, techniques, and strategies to drawing the comic cartoon head and face. We are going to cover the oval method of cartooning faces today. This is one of the more popular methods of drawing a cartoon face. The below example is for drawing the comic face from the front. You might also like a previous cartooning tutorial … How to Draw Comic Faces in Boxed Grids Method … How to Draw Cartoon Heads with Proportions Grid … Drawing Cartoon Heads from All Angles … How to Draw Different Shaped Heads … Here are More Cartooning Tutorials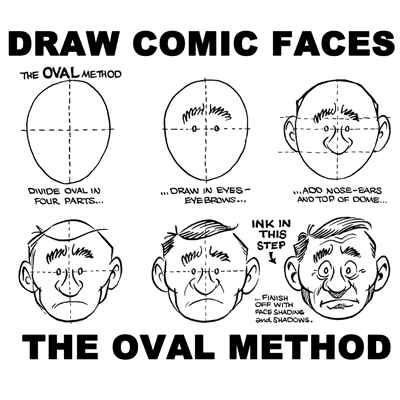 How to Draw Comic Cartoon Faces / Heads with the Oval Method of Drawing
Step 1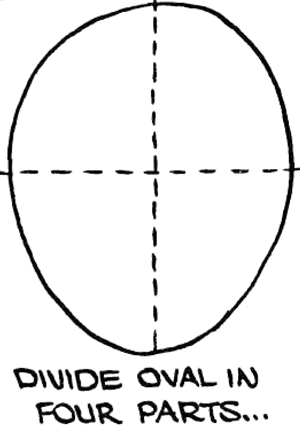 First, draw an oval and then divide it into 4 parts as you see above. This will help you figure out where to place the character's facial features.
Step 2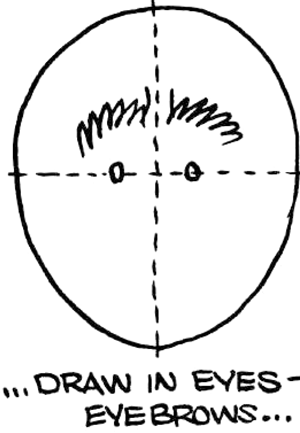 Now you can draw the eyes and eyebrows in by drawing an oval on the horizontal line (line going left and right) on either side of the vertical line (up and down line). You can draw the eye brows with a squiggly line drawing motion.
Step 3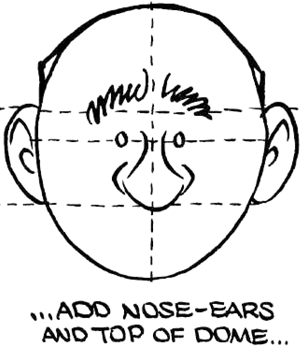 Draw a guideline half way in between the middle line and the bottom of the oval. Now draw a nose in between the center line and the next guideline down. Now draw a guideline where the bottom of the eyebrows are. Now draw the ears in between the top guideline and the bottom guideline. Now add the nose and ears and the top of the dome.
Step 4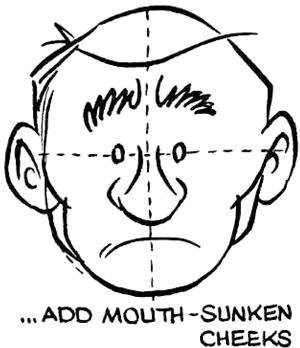 Add the cartoon face's mouth and cheeks.
Step 5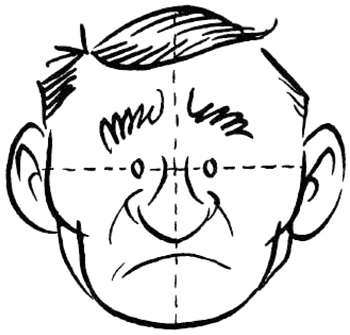 Now shade in the comic figure's hair.
Step 6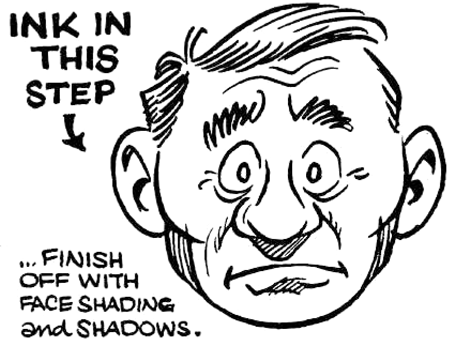 Now you can ink in the face and finish off with shading and shadows like the picture above.
Changing Cartoon Character's Face by Changing Facial Features
Below are a few suggestions for eyes, noses, hair, and chins. Try your hand at drawing a few heads / faces using this box / grid method by adding from the different facial features shown below.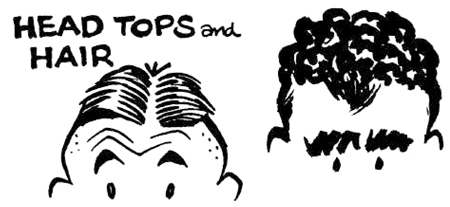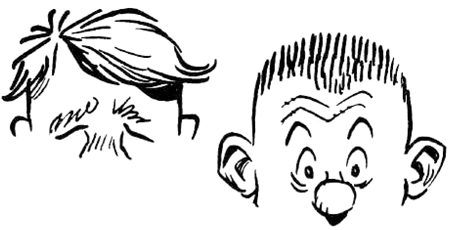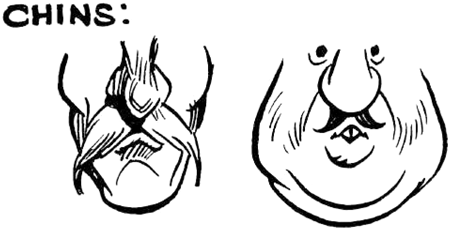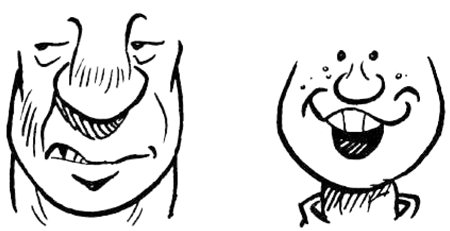 You might also like a previous cartooning tutorial … How to Draw Comic Faces in Boxed Grids Method … How to Draw Cartoon Heads with Proportions Grid … Drawing Cartoon Heads from All Angles … How to Draw Different Shaped Heads … Here are More Cartooning Tutorials
Technorati Tags: drawing cartoon heads, drawing cartoon faces, drawing heads, drawing faces, cartoon heads, cartoon faces, head proportions, face proportions, how to draw cartoon faces, drawing cartoon people, draw cartoon people, draw cartoons, cartooning people, cartooning characters, how to draw, draw comics, drawing comics, drawing for kids, drawing for children, drawing step by step, drawing lessons, drawing tutorials